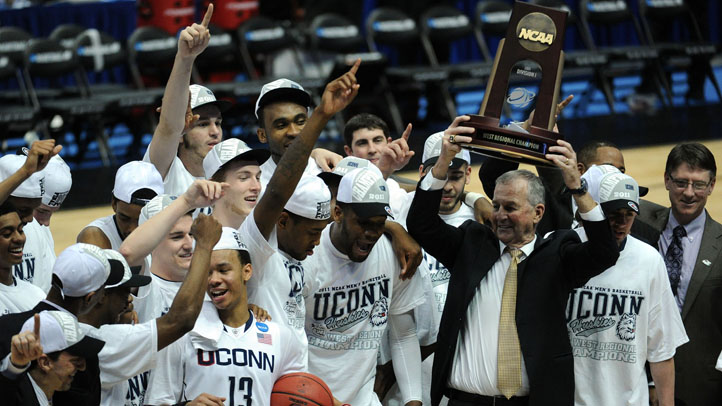 This spring, it sounded like Andre Drummond, one of the best high school basketball players in the country and a UConn target, might play collegiately in 2011. Then we found out he was instead opting for a post-graduate year at St. Thomas More with designs on joining the college ranks -- or the NBA -- in 2012.

Now -- well, no one seems to know exactly what Drummond will do, and that includes St. Thomas More head coach Jere Quinn.

"I really don't know what he's doing," Quinn told the Norwich Bulletin last week. "He's a great card player," Quinn said of Drummond's ability to keep people guessing by never divulging his true plans. "I've been trying to get an answer and he hasn't told me," Quinn said. "We met about a month ago and his mother (Christine Drummond) said she would let me know the first week of August."

This news is in stark contrast to what ESPN's Andy Katz wrote in late June.

"The speculation about whether 6-foot-10 Andre Drummond … could end up playing in the fall at UConn is over," Katz said at the time. "It's not happening. According to Drummond's representatives, including his mother, he will not be in college this fall but will instead go for a post-graduate year. That plan is St. Thomas More for now. There had been plenty of chatter about the possibility that Drummond could be ready for the Huskies in the fall, but that point is moot. He hasn't committed to UConn, either."

And while Drummond still hasn't committed to UConn, it's not clear where he will play in 2011-12. The ZagsBlog's Adam Zagoria writes that Drummond's option now appear to include: returning to St. Thomas More, attending another prep school, going to college, working out on his own for a year or potentially going to Europe.

"I don't think going to the military or going to Europe are wise options," Quinn told Zagoria. "He's done so well academically [here] and he's so entrenched in the school community, I don't think it's wise to leave another for prep school."

For now, all Quinn can do is wait. "[Drummond's mother] said she's going to get a hold of me sometime next week and let me know what she's thinking," Quinn said.