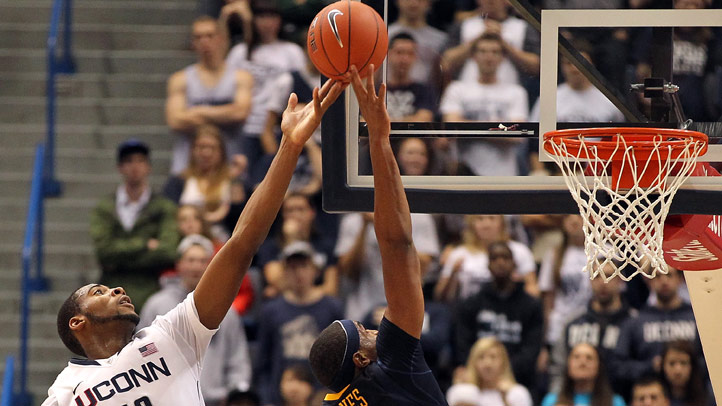 The UConn men's team has hit a rough patch. Perhaps much rougher than anything they experienced in 2010-11, a season that ultimately ended in a NCAA title, Jim Calhoun's third in his quarter-century in Storrs.

But 2011-12 is different, at least it seems to be from the vantage point of mid-February. The Huskies are much younger, are coming off a loss to No. 2 Syracuse without Calhoun (he's battling spinal stenosis), and at 15-9 are struggling to right the ship because they lack a slump-buster like Kemba Walker. Some combination of Jeremy Lamb, Shabazz Napier and Andre Drummond was, in theory, supposed to mitigate Walker's migration to the NBA. Through 24 games it hasn't happened. Making matters worse: Drummond suffered an injury Saturday.

Five minutes into the second half with the Huskies trailing by five, Drummond dove for a loose ball. By the time the play was over, he thought he had broken his ankle.

"It was hurting like crazy," he said afterwards, according to the New Haven Register's David Borges.

While it wasn't quite a Willis Reed moment, Drummond headed to the locker room for treatment, emerged with just over nine minutes to go in the game and continued playing, this time with a noticeable limp. He went scoreless for the rest of the half as the Huskies eventually lost by 18 but that's not the point. It's that Drummond could've called it a day after the injury and waited in the locker room for his teammates to make the trip back to Storrs.
Instead, he toughed it out in an effort to help the struggling Huskies. It didn't work out, but these are the sorts of gritty efforts that can pay dividends in March and April. And barring any other setbacks, Drummond should be on the floor down the stretch.

"It's a little sore, but I'm not gonna stress out," he said following the game. "I'm gonna get back to school and take care of it."

Interim coach George Blaney added: "I hope it's not serious, and I hope that it wasn't the difference (in the game), but it certainly would have been nice to have him that stretch when he was out."

Drummond, who ended the game with 13 points and seven rebounds, was understandably frustrated by the injury.

"I was just getting it going, too. We could have had this game. It really killed everything. We had the momentum going, and it slowed us down a little bit."

It might be cliched but it's fitting here: Drummond's a throwback, and Blaney appreciates that about him.

"I love that [his toughness]," Blaney said. "What's interesting about his character is that he's learning. He's never had to compete before, he's always been the biggest, strongest, most natural athlete in any game he's ever been in. Now he's learning how to compete at this level. You have to do things: take peoples' legs out, run the court, finish strong at the rim, get people off you so you two-handed dunk rather than one-handed dunk. He's picking it up and getting better and better as we go along."

And if the Huskies are going to save this season, they'll need Drummond to continue to play like one of the toughest guys in the Big East.