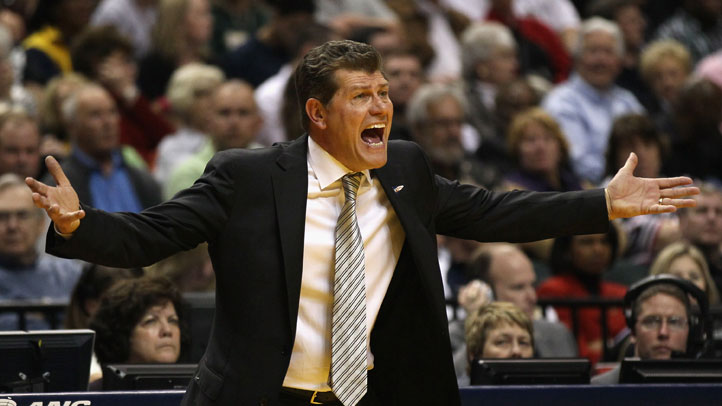 Geno Auriemma caused a stir when he suggested earlier this week that the NCAA should consider lowering the rims in the women's game. It's not a new idea but it comes from a big voice in the sport and sometimes that's enough to get people -- who otherwise wouldn't -- to pay attention.

Auriemma spoke to the media Thursday about his rim-lowering thoughts, the last time he'll do so this season.

"Sometimes you just have to uncover all the morons that live in this country that like to comment on things," he said via the Hartford Courant's John Altavilla. "So sometimes you throw something out there and they come from underneath their rocks and they have something to say. For me, it's just a test a lot of times.

"So I didn't just make that up that we should change something. And all the people that have their opinions, I would say `Listen, if you don't change anything that doesn't bother me one bit. We're going to win our 30 games every year and we're going to go to the Final Four.' So I'm not advocating any changes because I want the University of Connecticut to have an advantage or I think what we're doing is not great. I'm not talking about me and my team. That's not what I'm talking about."

Auriemma's point: this is bigger than one coach or one team. He pointed out that while 109 Division I men's teams shot at least 45 percent from the floor only 11 women's teams did.

"But according to a lot of the experts our game is fine. You know how many teams in the Big East last year shot 40 percent or less from the floor? Eleven. Eleven teams in our league shot under 40 percent from the floor. But it's OK. The game is pure, and I like that about our game."

Auriemma also clarified the misconception that lowering the rim was about bringing dunking to the women's game. Because it's not.

"I never said we should make it the men's game. All I said is I would like to have a scenario explored where women can have the same success around the rim that men have. Is that a lot of ask?"

Nope. And to be fair, much of the response to Auriemma's initial comments were positive.

Ultimately, Auriemma concedes that "I can't make it happen by myself" but also recognizes that basketball, when boiled down, is entertainment.

"So we are in the entertainment industry here regardless of what people think. People want to come and be entertained by the way we play. They can spend that $24 somewhere else. Go to the movies. Go to dinner. Do something. But they choose to come to a game. Is it too much to ask that they come to see a game where teams make shots more times than they miss?"