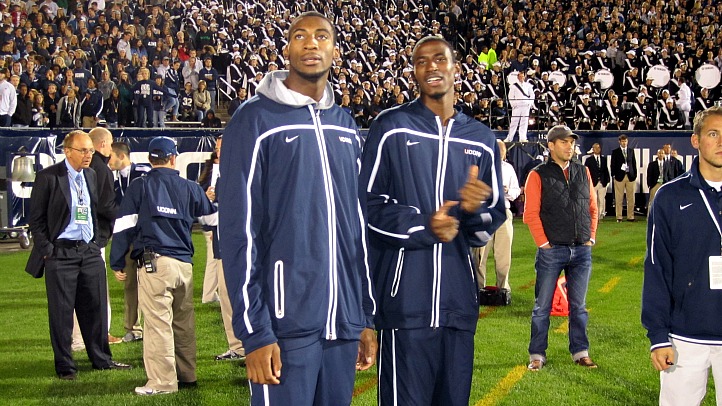 The UConn sports calendar got off to a rousing start Friday night with the official start of the basketball season, ushered in on ESPN and complete with fireworks, slam-dunk contests and three-point shootouts. Things were expected to take a left turn Saturday when the football team hosted South Florida, the Big East's most explosive offense. But the Huskies had other plans, eking out a 16-10 homecoming victory.

The second-biggest upset of the the weekend? Freshman Ryan Boatright, all six feet of him, beating freshman big-man -- and one of the biggest recruits in the country -- Andre Drummond in the dunk contest. Drummond stands a full foot taller than Boatright, but apparently size didn't matter Friday.

You can see some of the magic below, but a few thoughts first: Andre Drummond's first dunk was worth a jaw-dropping: "wow." His second dunk, assisted by Shabazz Napier, left us speechless. Clearly, Boatright was unconcerned by this. His reverse jam off the self-pass was impressive for somebody eight inches taller than him, never mind a six-foot point guard. But the decisive throwdown again included a Napier assist and, well, defies words...

"I've been doing that dunk since high school," said Boatright of the winner.

"That kid's smaller than me — he can jump," added Kemba Walker, who was on hand for the festivities.

Speaking of Kemba, head coach Jim Calhoun compared the freshman to one of the school's all-time greats. "He's got some similarities to Kemba," Calhoun said via the Hartford Courant, "in that he can score. I'd say he's 60-40–60 percent scorer, 40 percent pure point guard."

And for one night, he's also a slam dunk champ.