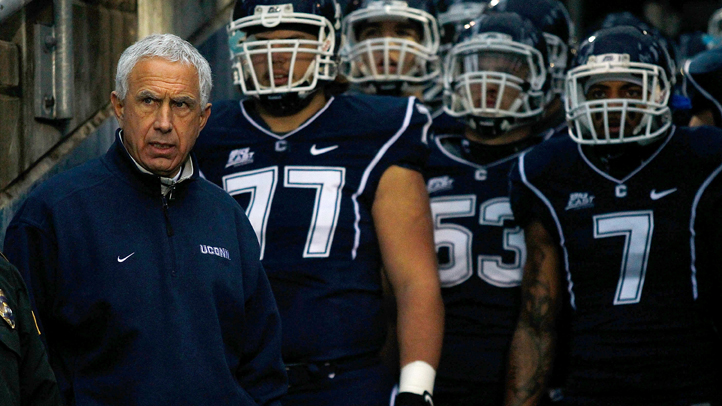 It's only the second game of the season, much to early too trot out the "must-win" cliches … except that the Huskies are coming off a loss to Towson, an FCS program, and face Michigan next weekend. Which means that if they don't find a way to beat Maryland this Saturday, 0-3 is a distinct possibility in eight days' time.

For an idea of just how dire things are consider this: When Randy Edsall dumped UConn for the Maryland job after the Fiesta Bowl in Jan. 2011, he was loathed in Storrs. The lingering resentment was still there last year, when the Huskies went to College Park and beat the Terps.

Now? Not so much. UConn has it's own problems; back-to-back 5-7 records under Paul Pasqualoni and no signs that things will magically improve in the near future. The Hartford Courant's Jeff Jacobs went so far as to write that if UConn starts 0-3, there's no way they'll finish above .500, "So, yes, a loss Saturday night could end up sealing Pasqualoni's fate. Huge game."

It's tough to disagree. The New Haven Register's Chip Malafronte adds that booing Edsall for past slights would be a waste of time for Huskies' fans with bigger problems.
It had the makings of a scene ripped straight from a WWE script. Hero turned villain returns to the soil of a fan base scorned. Only Edsall jogging from the visitor's tunnel, head wrapped in black bandanna and spray-on beard, would make this heel turn complete.

How quickly priorities change. UConn has bigger troubles, bub. Two weeks ago tiny Towson, the annual FCS sacrificial lamb, strolled into town and humiliated the Huskies.

Schadenfreude isn't much fun when your own house is in disarray.
Ain't that the truth.

Still, Edsall expects to hear it from the crowd.

"Anytime you go on the road, they're going to boo you," the coach said, via the Washington Post. "They're not going to like you. I wouldn't expect anything different. I'm sure there will be some people, my golfing buddies, that may cheer for us. As we go up there, the focus has to be on us. We have to prepare, watch them on film, and find out what their strengths and weaknesses are and know them inside and out, then go and play the game the way we're capable of playing."