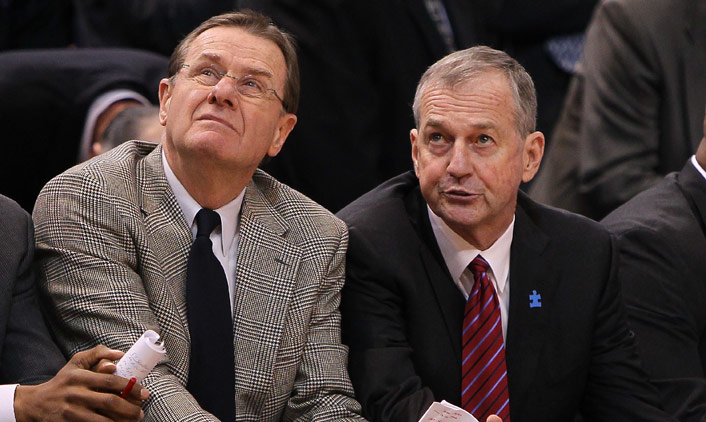 The Huskies have six games remaining in the regular season and at 15-9 (and 1-6 in their last seven games) there is very little margin for error. Of course, there was a similar midseason slump a year ago; the difference: Kemba Walker and Jim Calhoun.

The former is in the NBA and the latter has missed the last three game while he battles spinal stenosis. The Huskies are 1-2 over that time. And when they host DePaul Wednesday in a game that should serve as a brief respite from the losing, the expectation is that Calhoun won't be on the bench.

The 69-year-old Hall of Fame coach said last week that he planned to meet with doctors in Boston and New York to consider the best course of action. According to the Hartford Courant's Dom Amore, Calhoun continues to get medical advice and could choose to have surgery.

It's too early to call 2011-12 a lost season -- nobody anywhere had the Huskies winning 11 straight in the Big East and NCAA Tournaments a year ago -- but Calhoun has missed six games thus far (three due to NCAA sanctions, three because of his back). Longtime assistant and right-hand man George Blaney has been solid as the interim coach, but he's not Calhoun, who has a knack for getting the most out of his players.

If nothing else, these experiences will bond a team that has, by all accounts, been hugely disappointing. But unlike the 2009-10 team that underachieved, circumstances and injuries -- both to players and the coach -- have conspired against the 2011-12 club.
The only question is if these bonds will serve the Huskies down the stretch or be building blocks for 2012-13. The former is preferable although the latter is better than nothing.
The only danger: who knows what the roster will look like in August. Lamb and Drummond could jump to the NBA. Then again, maybe one or both of them will be back; it's not like Lamb has set the basketball world on fire of late, and Drummond's commitment to UConn (including his on-court toughness) might be an indication that he's in no hurry to enter the draft.
At this point, hope is about all we have.