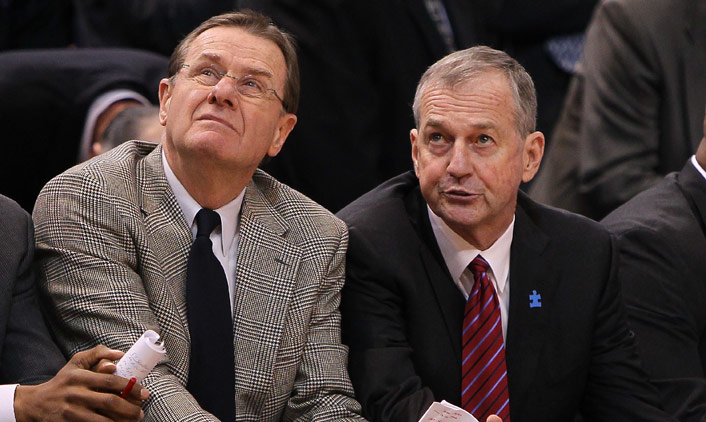 We've said it in the recent weeks and months since the Huskies' disappointing 2011-12 season ended with a loss to Iowa State in the second round of the NCAA Tournament, and it wasn't much different than the conversation we had a year ago: Jim Calhoun's future is undecided and the now-70-year-old coach isn't in any hurry to make his intentions known until he's good and ready. Of course, we wrote earlier in the week that Calhoun, based on comments to CBSSports.com, sounded very much like a man that expected to coach in 2012-13 although he never came out and said it.

And now there's this: former Huskies center Jake Voskuhl, in an interview with Joe D'Ambrosio of NBC Connecticut and WTIC-AM 1080, said that he's spoken directly with Calhoun about all this.

"I'm looking at different things, trying to determine that," the coach told Voskuhl.

It's not much different that what we heard last summer but it doesn't make the uncertainty any less daunting. The Huskies are entering a tough stretch; they're ineligible for postseason play -- both in the Big East and the NCAA -- in 2013 because of low APR scores. This will undoubtedly affect recruiting, something Calhoun's presence could mitigate. And while his successor -- whether it's Kevin Ollie or someone else -- could also be a fantastic recruiter, the reality is this: high school players know what Calhoun is all about. There are no questions about the direction of the program, the expectations of its players, or Calhoun's track record.

In fact, earlier this week Top-100 recruit Josh Hart conceded that Calhoun's status could determine if UConn makes his short list.

"It would be helpful for my situation, it's a question mark," Hart said. "If he does leave, I'd want to know in the next few weeks or months (who the coach will be) so I can start to build a relationship with him and keep it in thought while I'm cutting my list and making my decision."

You're not the only one who'd like to know, Josh. Calhoun has hinted that he'll be on the bench for at least another season (he told incoming recruit Omar Calhoun as much last year), admitting recently that "We'll have to play different (this season) … I still think we have chance to be pretty good this season." Such comments aren't made by people with an eye on retirement. Then again, we can't be certain about what Calhoun will do until he comes out and tells us.