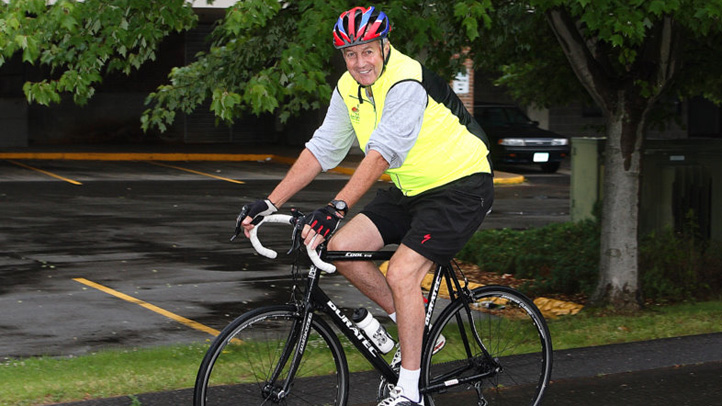 Despite three national championships, Hall of Fame honors, and all the standing that comes with coaching one of the nation's most consistent programs, Jim Calhoun still manages to be an underdog. It probably has a lot to do with his sustained success. So days after fracturing his hip in a cycling accident, and undergoing the subsequent surgery, Calhoun is out of the hospital, headed home, and will resume his place as UConn's coach in short order. Oh, and not only that, but the 70-year-old has no plans to quit riding his bike, either.

"I'll bike again," Calhoun said according to the Hartford Courant's Dom Amore. "I've been getting emails and letters from people, 'try a treadmill,' and that sort of thing. But I'll ride when I'm able to."

The accident occurred last weekend, just ahead of Calhoun's annual alumni charity basketball game and a golf outing.

"It was a big disappointment," Calhoun told Amore. "It's my favorite day of the year. I spoke to a lot of the kids. I go out for a ride at quarter to 12 [noon] or so, and I'm thinking about what's going to happen in a few hours. And then this happens. I hit sand and I land on my left side. It's a big disappointment."

If there's some good news -- other than Calhoun is okay -- it's that his fall didn't require a hip replacement, just surgery. So how long until he's back at full strength?

Orthopedic surgeon Dr. Stephen Hunt, who wasn't involved in Calhoun's procedure, told the Associated Press that it typically takes 8-12 weeks for the bone in the hip to repair itself.

"It might impact the start of this season," Hunt said. "That's three months. That gives him adequate time to heal, but he may have some residual symptoms, some weakness or a little discomfort that persists in October."

Calhoun knows that he'll have to be patient.

"I know this is going to take a while," he said. "It's not going to be a quickie like with the back. No one has said one word about [how long it will take]. I'm just going to take it one day at a time. It's not like these things were when we all were younger; they want you out of the hospital, they want you to get active. I'll be doing some weight-bearing things right away."