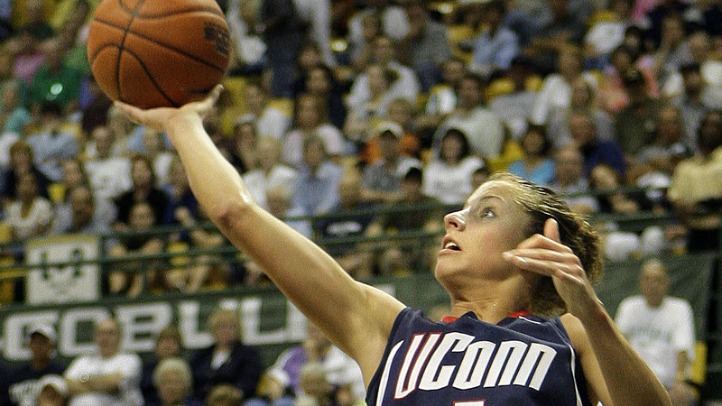 The UConn women have one more exhibition game before the regular-season grind officially begins. The records may not count, but it's an important part of the preseason routine; coach Geno Auriemma can gauge how his players respond in game situations, and get a feel for what they do well, things they need to work, and how the new faces are assimilating with the vets.

One player who had very little trouble with the transition from high school to college -- at least based on a brief European summer tour and the Huskies' first exhibition contest -- is Kaleena Mosqueda-Lewis, the 2011 national high school player of the year. She scored 17 points against Assumption in just 21 minutes of action. She left the game with a calf injury that is still bothering her enough that she won't be available when UConn hosts Pace Wednesday night.

Mosqueda-Lewis won't be the only player on the bench in street clothes. Caroline Doty, who missed last season while recovering from ACL surgery, won't play either. She has an ankle sprain. "Needless to say, it hasn't been very easy at practice," Auriemma said, via the Hartford Courant.
"Caroline practiced some [Tuesday] and will be back to full practice Friday and definitely will be playing this weekend (in UConn's opener against Holy Cross). I'm hoping to have everyone back by Friday, but I don't know. We'll just have wait and see how Kaleena feels. These things [calf muscles] are kind of delicate, kind of like hamstring pulls. You are better off being cautious at the start and hope they don't linger."

Freshman Brianna Banks also has a sprained ankle to go along with the four wisdom teeth she had removed recently. Her status for Wednesday is still up in the air.

Mosqueda-Lewis started against Assumption, but Auriemma hasn't yet decided who will replace here in the lineup. Doty, who will see plenty of playing time once she's healthy is understandably tired of watching from the sidelines. "I am so ready to play," she said.

If all goes well, that could happen this weekend.