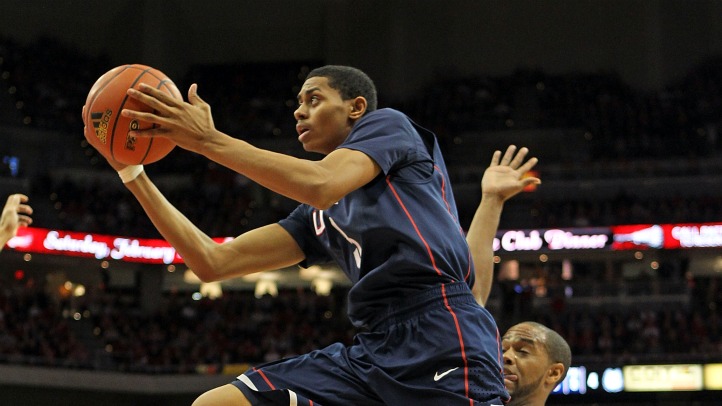 For the second straight exhibition game the UConn men's team made easy work of their opponent, this time beating C.W. Post, 91-61. The final score means little, of course; it's more important for upperclassmen to build on previous successes and for newcomers to get acclimated to big-time college basketball.

The former certainly held true: Jeremy Lamb scored 23 point and Shabazz Napier added 14 points and 13 rebounds.

The latter was a mixed bag; Ryan Boatright didn't play due to an ongoing NCAA review. Andre Drummond (16 points) was inconsistent, but DeAndre Daniels (13 points) drew Jim Calhoun's praise, which is pretty hard to come by.

"I thought that DeAndre really looked like a complete basketball player," Calhoun said. "He handled the ball, threw a couple of really good passes. He's going to make shots because he's a good shooter. And defensively, he was really, really good."

As for Drummond, Calhoun said "He just didn't have two of the kind of games that he's capable of. I would like to see Andre play better than that."

And the coach had similar sentiments for junior big man Alex Oriakhi, who scored just eight points on 1-of-5 shooting.

"We need Alex to be better than that," Calhoun said. "We just do. Alex is a horse of ours. He's been big in big games. And as it gets more physical, we're going to need him."

Boatright's absence means Napier will have to play more minutes, and that raises concerns beyond just fitness.

"I can't be as aggressive as I usually am," Napier said. "I have to make shots and stay out of foul trouble. Not having Boatright as of right now is kind of tough for me. I have to make sure I get my teammates into the right spots and I have to be out there for my team.

"You can win games because of your big men, but most of the time when you win a game it's because of your guards."

Yep. Look no further than last year for proof of that. If not for Napier's contributions late in the season, Kemba Walker might have run out of gas in early March and the Huskies would've been bounced from the Big East and NCAA Tournaments.

For now, though, Boatright sits. And that means walk-on Brendan Allen is the backup point guard. He played 16 minutes against C.W. Post, scored three points, grabbed two rebounds and had an assist and a turnover.

"We're throwing an awful lot at a walk-on, but I thought today he looked more comfortable," said Calhoun. "I tell you one thing, he's got a little stomach to him....With more work, he's going to help us, particularly given the situation right now....I told Jeremy 'I didn't like the way you played (the first exhibition game) because you didn't score enough points. So let's get you off the ball.' So Brendan right now is our backup point guard until things change."

ESPN's Eamonn Brennan writes that while there is no official word on Boatright's fate, "It doesn't seem likely to keep Boatright out for anything more than a couple of weeks."