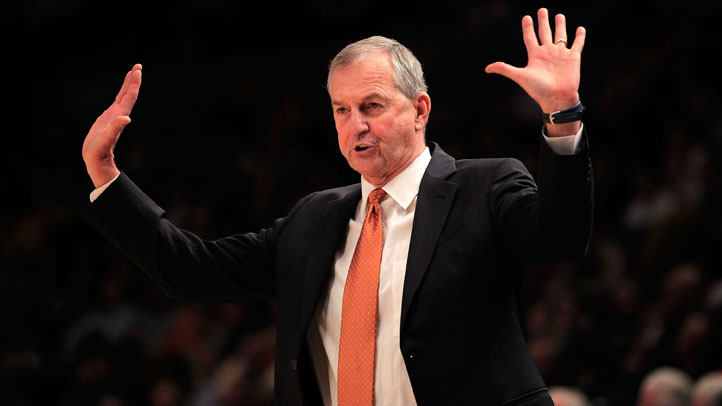 The UConn mens' basketball team is now 1-0 in games that don't matter. They opened the 2011-12 season win a 78-35 exhibition win over American International in Gampel Pavilion.

Sophomore Jeremy Lamb led all scorers with 17 points, and freshman big man Andre Drummond, who played despite suffering a broken noise and a slight concussion at a recent practice, added 10, including a dunk following a Lamb miss. Sophomore point guard Shabazz Napier was tack-sharp, registering 15 assists to zero turnovers, adding nine points and three rebounds.

Freshman DeAndre Daniels also saw significant time, and in 24 minutes he scored 10 points. He admitted afterwards that he was nervous well into the second half. Daniels also got his first official in-game earful from Calhoun. After draining a three-pointer, Daniels, looking in the direction of the student section, held up three fingers. Calhoun promptly benched him, telling Daniels to stop with the gestures, and play defense.

"Coach is right," Daniels said, according to TheDay.com's Gavin Keefe. "I was wrong for doing that. I was kind of in the moment. I learned from my mistake."

From the start, the Huskies were the better team and it wasn't close. That's no surprise, but the exhibition was less about throttling the opponent and more about working on parts of the game that need attention. And Calhoun wasn't shy about bringing up those shortcomings.

"Obviously it was an offensive struggle for us. We only had one guy - and he didn't do that until the second half - put the ball on the deck and create situations for us," he said after the game. "Certainly our wings are going to have to do a better job getting free."

"We have to take advantage of our size. We didn't rebound anywhere near the way I thought we were capable of. We didn't give them a ton of second shots, but we should have gotten almost every one ourselves."

It's almost as if the Huskies lost by 43.

This team will only go as far as Lamb and Napier take them. With Kemba Walker gone, Lamb is the de facto leader and point scorer. But Napier is the floor general, the guy responsible for setting the tempo, pushing the ball up the floor and finding the open man for the easiest look at the basket. Calhoun's post-game remarks were less glowing than the score might indicate.

"Jeremy made a couple decent plays, but he didn't look quick handling the ball or going by people," Calhoun said. "One guy who eventually did that was Shabazz. We have to do a much better job with that....Shabazz's 15 to 0 (points/turnovers ratio) was nice, but as I said to him, the '0' was because he wasn't doing anything in the first half.

"'How can you have a turnover when you're not doing anything?' But in the second half, he got us going....I thought Tyler [Olander] and Shabazz were the two best players we had on the team. Tyler really understands concepts. He understands angles. He understands how to hedge. He really has come back... I thought Tyler was really terrific tonight."

Olander, a 6-9 sophomore, was on the court more than any Huskies player (26 minutes), and gives the team depth in the frontcourt. He ended the evening with nine points, nine rebounds and three assists.

UConn's starting big man, Alex Oriakhi, added 13 points, eight rebounds and two blocks. Our defense was superb," he said. "Shabazz had a goal - he said no more than 35 points. And we were able to do that."

Roscoe Smith, the sophomore forward wasn't on the court in the first half. According to Calhoun, Smith "violated a commitment he had with us. No big deal. So, I didn't start him or play him in the first half. Nothing more will come of it. It's over, finished."

As expected, Ryan Boatright didn't play while the NCAA reviews his eligibility.

Next up: C.W. Post visits the XL Center Sunday at 1 p.m. for the Huskies' second exhibition game of the season.