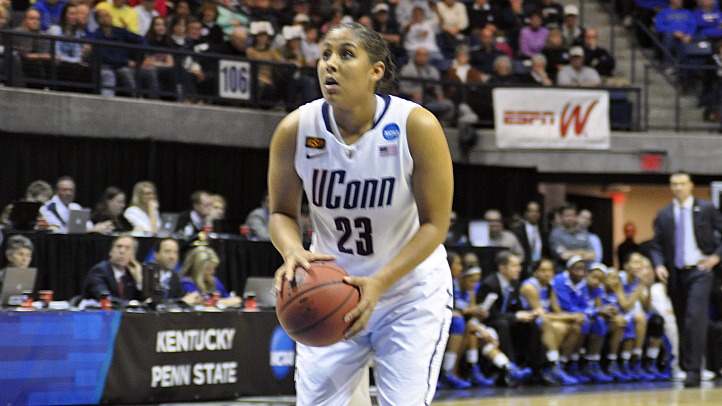 When you outscore your first three opponents 327-117 it's hard to find glaring weaknesses that need immediate attention. Sure, two of those wins were exhibition games and the other was the season opener against the College of Charleston. Not exactly, the thick of an NCAA Tournament run for Geno Auriemma's bunch.

But when you annually stack your roster with the country's best players there are going to be blowouts. The trick is to drive these really good players to be great, something Auriemma has been very good at. Sometimes, though, these players have gotten to where they are not because some coach was hard on them but because they were hard on themselves. We're guessing it's some combination of both that helps explains sophomore Kaleena Mosqueda-Lewis' continued success.

After a freshman year in which she made 93 three-pointers (third best in UConn history), Mosqueda-Lewis' 2012-13 season got off to a fantastic start.

"I had zero turnovers, five steals and eight rebounds. I was happy with that," she said via the New Haven Register's Jim Fuller. "(Assistant coach) Shea Ralph said 'you should have rebounds, you should have assists, steals. You should be playing all around and not being a one-dimensional player.' I am definitely more excited about how many rebounds I got."

As is Auriemma, we'd imagine.

The Huskies are without one of their best players, preseason All-American guard Bria Hartley, who could be sidelined for the first four games with an ankle injury. But unlike previous teams where, say, the loss of Maya Moore would have a fundamental impact on the outcome, UConn has such a deep bench that their second-team could compete in the Big East.

"It would be different. I don't know if it would necessarily better or worse, it will just be different (when Hartley returns from her ankle injury)," Auriemma said. "I don't know that you can really score a lot more points than we scored in the first three games even when Bria comes back. There is still an inexperience factor that is out there. The last eight minutes of the game, we scored eight points.

"We are still going to go through stretches where it isn't going to be great, but from what I saw (Sunday) and as I said after the game against Holy Family, I don't think scoring points is going to be a problem," he continued. "How many points may be irrelevant. I don't think scoring is going to be a problem. We are going to score. Its making sure that we keep getting better at all the other things."

Having a cadre of deep threats creates nightmares for opponents who must decide between guarding the perimeter or clogging the lane to slow Stefanie Dolson and Breanna Stewart.

"There is more room on the floor and having a big presence like Stefanie in the lane and having four 3-point shooters surrounding her and one of them hopefully 6-4 (Breanna Stewart)," Auriemma pointed out. "Last year I thought their spacing was a little bit off at times and so far I have noticed that our spacing has been better."

And that's bad news for the rest of the teams on UConn's schedule.