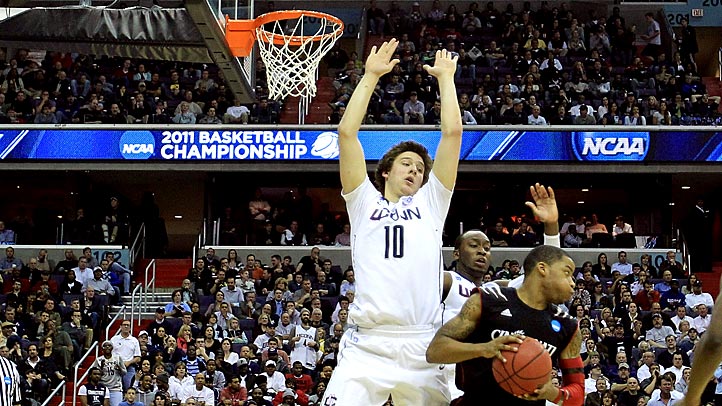 When Tyler Olander arrived in Storrs just over two years ago there wasn't much in the way of expectations. As a freshman, his career trajectory would start with him spending a lot of time on the bench behind Alex Oriakhi and Charles Okwandu. He started 21 times that first season but averaged less than 10 minutes per game (1.5 points, 1.8 rebounds).

Now, with the frontcourt bare after Oriakhi transferred and last year's freshman phenom, Andre Drummond, left for the NBA, Olander is suddenly critical to the Huskies' chances to compete. Long gone are the days when UConn could just give the ball to Kemba Walker or Jeremy Lamb and everyone else could sit back while they dropped 30 on an opponent. The 2012-13 squad truly embodies the team mentality because there are no superstars. Olander understands this as well as anyone.

"I was getting a lot of minutes last year," Olander said, according to the Hartford Courant, "but not really knowing what to do with them. I'm more confident, more focused on playing the whole possession. …

"I think I'm a better player," he continued. "My game is more refined. I'm still doing the same things, trying to get stats everywhere, but I'm trying to be more consistent."

The progress hasn't gone unnoticed.

"He's has been that stabilizer in the middle that we need," said coach Kevin Ollie. "We're not the biggest team, you can see that. Tyler is giving us a great effort right now. …

"(He's) an all-around basketball player. He's not a step slow. Last year he might have been a step slow. Now he's reacting better. …I just think he's playing with confidence, he's understanding his role on this team. He's coming out with that mentality that 'I'm not going to give in no matter what.'"

And those improvements can't be understated. He's now playing 30 minutes a game (up from 17.6 as a sophomore), averaging 6.5 points and 4.0 blocks, but more importantly, 7.5 rebounds. For a team that had a lot of questions about the frontcourt before the season, that's a huge development.

"I have to put a body on their best rebounders and make sure they don't get all the rebounds," Olander said. "It's a little bit of pressure on everybody, being kind of undersized, we have to make sure that we're getting those longer rebounds, make sure that one man is not getting to the ball, that we can all get to the ball."

On a team without a bona fide superstar, it's the little things like that that separate winning from losing.