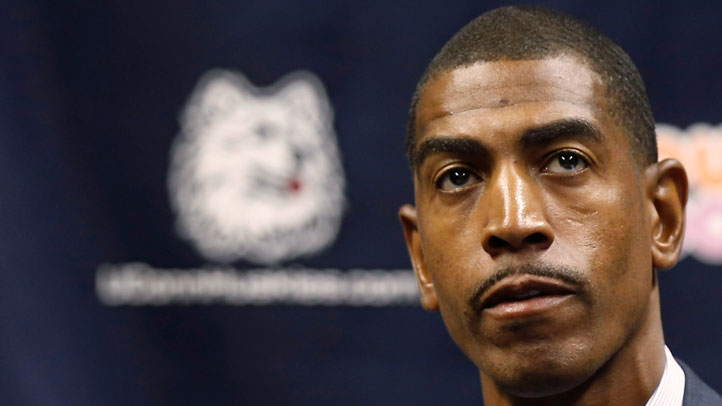 There are countless reasons to expect 2012-13 to be a rebuilding year for the Huskies. Their Hall of Fame coach retired in September, they're ineligible for the NCAA Tournament, and five players left the program last spring. So what did UConn do in coach Kevin Ollie's first game, a nationally televised ESPN event that pitted them against No. 14 Michigan St. in the Armed Forces Classic from Ramstein Air Base in Germany?

They played to a convincing 66-62 win against a tenacious opponent and no signs from the young and inexperienced Huskies that they will be intimidated at any point this season.

It was striking change from a season ago when expectations and underachievement seemed to doom the defending national champions. Whatever the rest of the schedule holds, this much is certain: Ollie erased in 40 minutes of quality basketball any concerns that his job would be too big for him. At one point during the telecast, after the camera settled on athletic director Warde Manuel sitting in the stands, ESPN color analyst Jay Bilas suggested that Manuel should sign Ollie to a multi-year deal ASAP. It's hard to argue with that line of thinking.

"We played hard and we stuck together and stayed with our game plan," Ollie said afterwards. "I loved the way we showed resiliency, even when Michigan State came back on us and took the lead. They are a great team and we knew they would make a run, but we kept our composure and played hard the whole way.

Obviously, Shabazz (Napier) had a terrific game, but everybody contributed to this win, Ryan (Boatright), DeAndre (Daniels), Tyler (Olander), RJ (Evans), everybody on the team had a hand in this."

The Huskies backcourt put on a show; Napier efficiently directed the offense, made big shots and finished with 25 points, and Boatright fought off an early ankle injury added 13 points. UConn jumped out to an early lead and were up by as much as 16 before Michigan St. settled down to make it 40-33 at the half. The Huskies hung on for the final 20 minutes for officially the biggest win in Ollie's tenure.

"Coach told us at halftime that they were going to come back at us and they did and we got down by one," Napier said. "But we kept our composure and stayed together and we made sure that we were always connected to each other. We made some mistakes, we're a team that's not perfect, but as long as we gut down and really go for it at the end, we should be fine."

The Spartans easily won the rebound battle, 43-29, but the Huskies showed the ability to compete in the paint. Olander can be a solid presence and Daniels, while lacking the frame to bang inside, is long and lithe and can be a factor on the boards (they combined for 14 rebounds). And if that happens -- and Napier and Boatright but this team on their shoulders (and let's be honest -- that has to happen for this group to compete night in and night out) -- there's every reason to think that they'll be better than their middling preseason Big East ranking.

"Tyler works so hard and doesn't get recognized. He was tremendous today. He works hard and I think he's going to shock a lot of people this year," Napier said.

Taking the long view, we could look back at this game as the tone-setter for the season.

"You could say it's a statement win, just to show everyone that we're a hard-working team," Napier continued. "That's about it. We're not going to really dwell on this win. We'll have fun with it for a little while, but we have Vermont coming up. We're not going to sit on our success because that's not good for us."

Ollie agrees. "It's a good win for our team, but we can't rest on our laurels," he said. "We have to get better, get tighter, work on our game and get ready for Vermont."