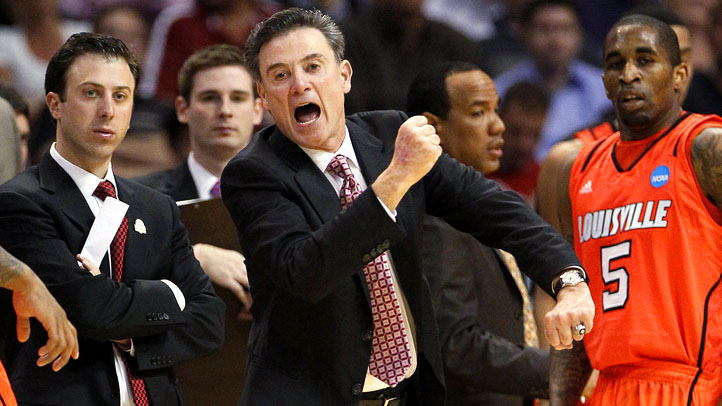 Louisville may be UConn's rival by virtue of the fact that they're in the same conference and usually among the nation's best programs, but Cardinals coach Rick Pitino seems to have a soft spot for his Huskies counterpart, Kevin Ollie.

Back in October, before the school gave Ollie a long-term contract, Pitino went out of his way to support the first-year coach.
"I don't know the new athletic director, but I can say this: There's not a coach in the country Connecticut can hire that's better than Kevin Ollie," Pitino said at the time.

And now that the Cardinals have just one more year in the new American Athletic Conference before bolting to the ACC, Pitino remains a fervent Ollie supporter.

"I'm a tremendous fan of Kevin as a person, I've always been, since he tried out with us [with the Celtics]," Pitino told the Hartford Courant's Dom Amore recently. "Then I became a tremendous fan of the way he coaches. He's different than Jim [Calhoun], but he has learned from Jim. … I just think he's got a great way about him, he has got a humility about him … you can't do what he did in the NBA unless you have tremendous toughness. These kids that are playing for him wish they had his toughness. To get to be Kevin Ollie, you've got to be humble and tough like none of these athletes are today."

As for the AAC, which is what we're now calling the Big East, even though all the faces -- save the Huskies -- will have changed by 2014, Pitino was optimistic.

"It's going to be much better than people anticipate because there are four teams that are going to be in the top 20: Memphis, Connecticut, Louisville -- three of the four for sure and Cincinnati in the Top 25 if not the Top 20," he said. "And that's not including Temple, I don't know how good they're going to be.

"… It could be a great league, like a very good Conference USA -- back in the old days when Louisville, Cincinnati, Marquette and South Florida were in it," Pitino continued. "It was a very good league -- there were eight tremendous teams in that league."

Put another way -- and to reiterate what we've heard all along: winning fixes almost everything. To quote the late Oakland Raiders owner, Al Davis: For the AAC -- and the Huskies -- to be successful ... just win, baby.