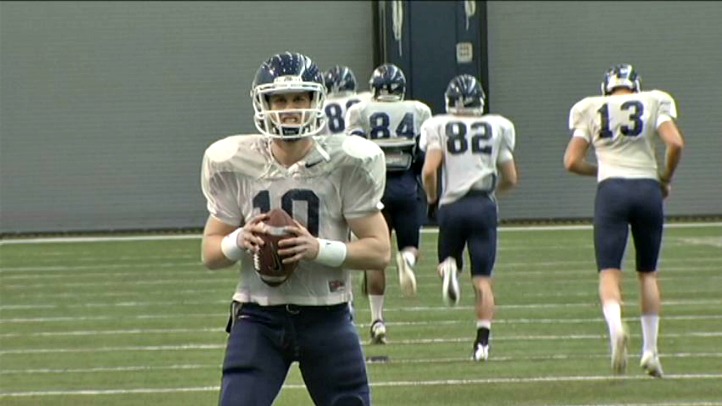 The time is now for Chandler Whitmer. The sophomore and junior college transfer won the Huskies' quarterback job after a strong showing in spring practice and now he's just two days away from taking the field in the season opener against UMass. Apparently, it's a moment he's was born for. That's not an exaggeration. Whitmer said during UConn's media session (via the Hartford Courant's Jeff Jacobs) that "My first word was 'ball.' So I've probably dreamed about it since I was just a little guy. That's all I've known my entire life."

Dream meets reality in some 48 hours when Whitmer hopes to provide the Huskies with something they didn't have last season: a passing game. The 6-2, 190-pounder threw for 3,000 yards and 25 touchdowns at Butler Community College (Kansas) last season. By comparison, UConn's Johnny McEntee managed just 2,110 yards and 12 TDs in 2011.

Now Whitmer's looking to take advantage of the opportunity.

"It feels good not to have that hanging over my head and just be able to go out and play," he said. "I think it was good, so we could get the chemistry going."

Which is pretty much what coach Paul Pasqualoni said at the time of the announcement. "I feel good about Chandler," he said. "He is right on top of his game."

But how did Chandler end up on Storrs? After all, the big 2012 recruiting news was that the Huskies had landed two-time Gatorade State Player of the Year Casey Cochran. And while Cochran also competed in spring practice it was Whitmer who stood out. According to Jacobs, Pasqualoni's interest in Whitmer was a marriage of convenience -- the QB was available and UConn needed someone. In Cochran they got a young upstart; in Whitmer they found a veteran who had success in junior college.

"We looked at who would fit our system, who was available and who could be admitted from a transfer standpoint," Pasqualoni said via Jacobs. "Chandler had a great season with Butler. He's very good student. We evaluated if he was our kind of guy and we were his kind of people. He really liked the school, our system. Chandler really fit the bill. I didn't promise him anything but a chance to compete. He accepted that."

And all Whitmer did was outperform his teammates and win the job outright. Now comes the hard part: keeping it.