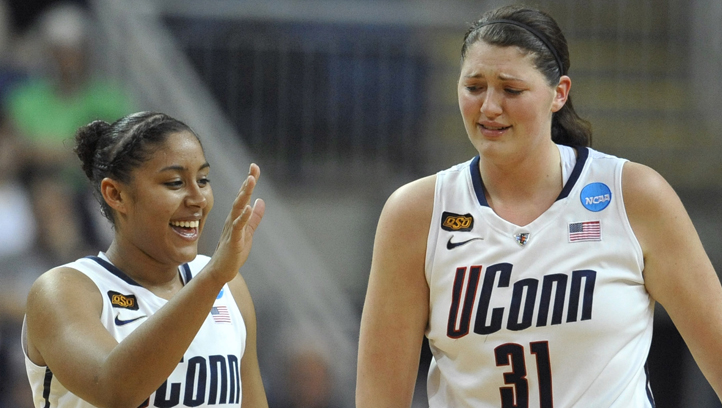 If UConn was looking to avenge their latest loss to Notre Dame they didn't have to wait long. Eight days after dropping a triple-overtime thriller in South Bend, the Huskies will meet the Fighting Irish in the Big East Tournament championship game Tuesday night at the XL Center.

UConn earned the right after handling Syracuse, 64-51 in the semifinals. And now they'll face Notre Dame, a group that has won six of its previous seven matchups against the Huskies.

It's a weird situation for Geno Auriemma's team, which has seven national titles and regularly makes deep runs in the NCAA Tournament. Except that in each of the last two years, Notre Dame has ended their season in the Final Four.

Fighting Irish coach Muffet McGraw called it "the best rivalry in the country," last week. But it's also a rivalry that could end Tuesday night; Notre Dame is bolting for the ACC while the Huskies will remain in the conference formerly known as the Big East.

"There's not a whole lot of nostalgia going on in conference realignment," Auriemma said Monday via the Hartford Courant. "I don't think anybody goes to the meetings and goes, 'You know, for old-time sake, I think we should do that.'"

Nostalgia aside, if the Huskies hope to reverse recent history, they'll need to a) avoid turnovers (they had a mind-blowing 35 in the last matchup), b) finds ways to slow Kayla McBride and Skylar Diggins, and c) get solid efforts from Stefanie Dolson and Bria Hartley.

Points a) and c) are related, and it explains why Auriemma has leaned on freshman point guard Moriah Jefferson in recent games; Hartley struggled with Notre Dame's pressure, and Caroline Doty didn't do much better. If Jefferson can carry some of that burden to free Hartley up to do what she does best -- score -- all the better.

Luckily, freshman Breanna Stewart, who hit a rough patch in the middle of the season after torrid start, is coming around again. She's scored 14 and 21 points in UConn's two Big East Tournament games and when she's on Stewart creates matchup problems for the opponent.

"I need to be aggressive and play the way I'm capable of playing and comfortable playing," Stewart said via SNY.com. "One of the big things last week was I needed to be strong with the ball and there were a couple of times in crucial situations that I wasn't as strong as I could have been and I lost it or bobbled it. I need to be strong and aggressive.

"Being in this environment with the Big East championship on the line … We're in this tournament to win it and that is what we're going to try and do."

Fun starts Tuesday at 7p.m.