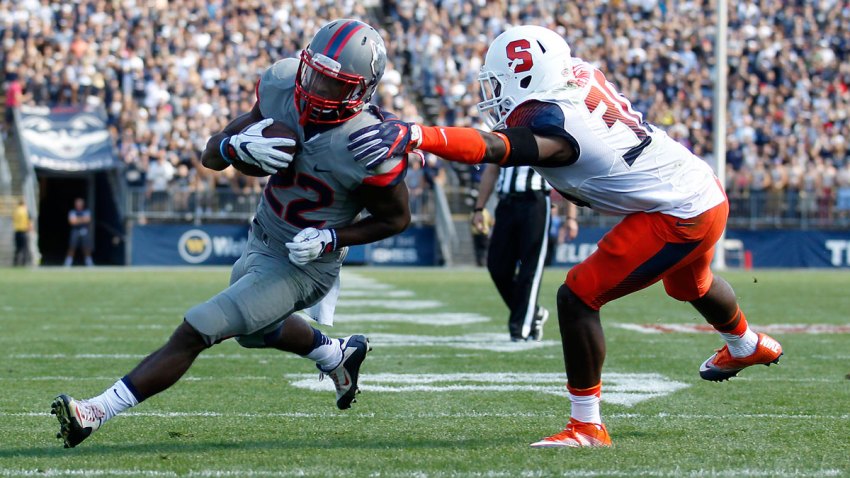 Amba Etta-Tawo caught 12 passes for a school-record 270 yards and two touchdowns and Syracuse beat UConn 31-24 on Saturday.
The graduate transfer from Maryland scored twice in the game's first five minutes on touchdown receptions of 57 and 30 yards. His 59-yard catch on third down from the shadow of his team's goal line highlighted a 12-play 99-yard fourth quarter drive that put the game away for the Orange (2-2).
Syracuse quarterback Eric Dungey completed 26 of 40 passes for 407 yards and those two scores. He also scored on a 6-yard run to complete the length-of the field drive.
Noel Thomas had 14 receptions for 111 yards for UConn (2-2).
It took Syracuse just 51 seconds to score its first touchdown and 92 on its second for Dungey and Etta-Tawo to make it 14-0. Etta-Tawo had five catches for 115 yards in the first quarter.
The Huskies put up 148 yards in the second quarter and for the second straight week, the Orange couldn't hold the early double-digit lead.
Cordell Hudson pickup off a tipped pass from UConn quarterback Bryant Shirreffs and ran 22-yards down the left sideline for a touchdown that gave the Orange a 24-17 lead. It was just the second interception for the Orange this season.
The Huskies had a chance to tie the game in the fourth quarter after holder Tyler Davis, a former high school quarterback, hit tight end Tommy Myers with a 17-yard pass on a fake field goal to set the Huskies up at the Syracuse 8-yard line.
But Syracuse's defense held, and stopped Shirreffs on a fourth-and goal from the 2-yard line with just over 6 minutes left, and the Orange marched the length of the field to put the game away.
THE TAKEAWAY
SYRACUSE: Etta-Tawo showed that he is an elite receiver. He beat UConn's best defensive back, Jamar Summers in single coverage all afternoon. His 270 receiving yards tops the Syracuse record previously held by Scott Schwedes against Boston College in 1985.
UCONN: Since the start of last season, 11 of UConn's 17 games have been decided by a single score (eight points or fewer). The Huskies are now 6-5 in those games.
UP NEXT
SYRACUSE: The Orange close out their non-conference schedule next Saturday at noon when they play Notre Dame at MetLife Stadium in East Rutherford, New Jersey.
UCONN: The Huskies return to conference play with a visit to Houston on Thursday night. The Huskies handed the Cougars their only loss last season, a 20-17 upset in East Hartford. UConn is 0-1 in the American Athletic Conference this year after losing to Navy, 28-24 on Sept. 10.
Copyright AP - Associated Press