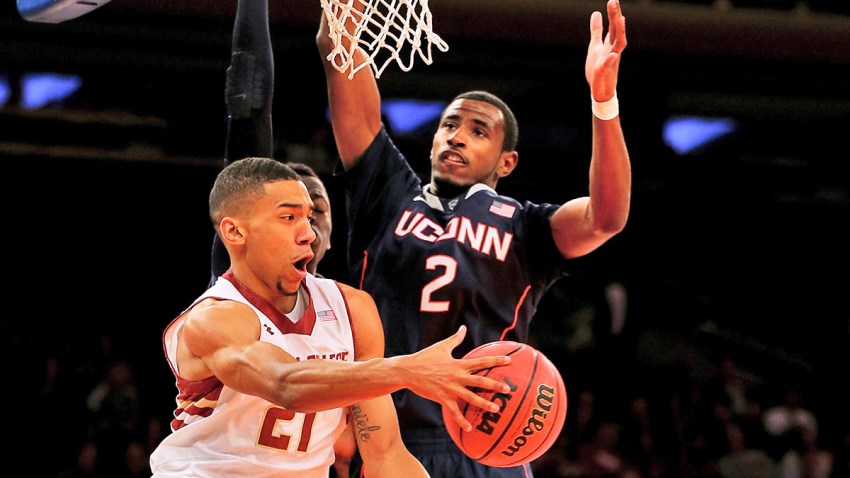 We don't want to say that the Huskies are already looking ahead to tournament time -- they still have one game left in the regular season, a Saturday meeting with Louisville -- but once that day arrives, Kevin Ollie's team feels like they're legitimately prepared to bring another national title to Storrs.

"I'm planning to come back here in April and raise a banner," he told the crowd Wednesday at Gampel Pavilion after the Huskies beat Rutgers.

"The only way you're going to have a blessing is if you believe and have faith," Ollie continued. "I believe we're going to be back here. I'm going to say it. I'm not going to say 'we're going to lose.' I believe we are going to win the national championship, and that's the only way I believe. I believe we're going to win the next game at Louisville. I just got faith in my team."

As it stands, UConn has won seven of their last eight games. Three years ago, back when Shabazz Napier, Tyler Olander and Niels Giffey were freshman, UConn entered the Big East Tournament as a middling seed. They went on to win 11 straight -- including five games in five days at Madison Square Garden -- to give Jim Calhoun his third national championship.

"It's something we think we can do," Olander said. "We have the pieces of the puzzle, the experience. We can make a run like that and that's our goal. It's just taking a page from Coach Blaney's book, he'd always say, 'you don't play in tournaments to lose, you don't play for second place, you play to win.' We've got some guys who know what it takes, and we've got some guys who know what it feels like to get bumped out first round (which happened in 2012, a year after winning the national title). You definitely don't want to feel like that."

Giffey added that Ollie "expects a lot of us. That's the type of guy he is. He wants to set that standard for himself and for the team. He's not satisfied with where we are now, he wants to get back up there. That's why I think he's the only guy who can step into Coach Calhoun's footsteps."

Not just expectations, but faith too.

"I have confidence in my guys," the coach said. "I have confidence we're going to win every game. If you don't believe it, you're never going to have anything. I came here as a coach, I believed in myself, I believed in my coaching staff. No matter what the situation was. We've got a chance, like every other team. Like 68 other teams, we've got a chance, so why not think it?"