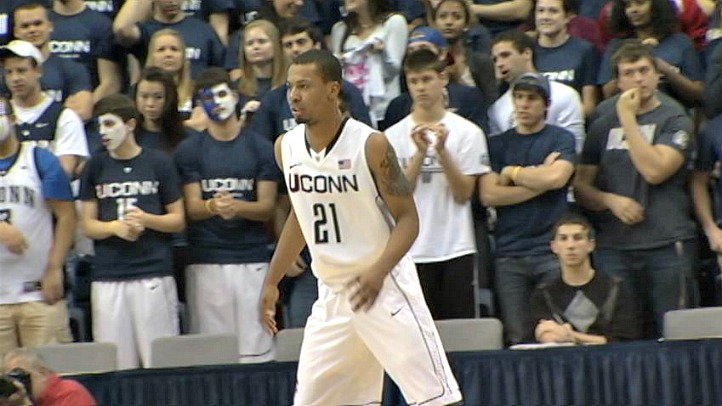 The Huskies are 10-2, their interim coach is officially full time now, and the meat of the Big East schedule is upon us. For all that's gone wrong in recent months, things seem to be looking up for UConn.

Hours after the university announced that Ollie had been signed to a five-year contract, UConn went out and beat the other Huskies, from the University of Washington, 61-53. Freshman Omar Calhoun led the way with 14 points and sophomore Ryan Boatright added 12. Shabazz Napier, meanwhile, had 13 points, 4 assists and 8 rebounds to go with 7 turnovers.

The game was a microcosm of the season: It wasn't perfect but it was good enough. Either way, it's a win Ollie will remember for a long time.

"It was a good day in my life," the coach said after the game. "I appreciate the University for giving me this opportunity. It's just a dream come true for me to come back to my alma mater and be here to be the head coach and to follow Jim Calhoun, somebody I hold dear to my heart.

"Our big men were terrific tonight. Phillip (Nolan) came in, six minutes, and contributed. Tyler (Olander) contributed. Enosch (Wolf) contributed. And that's what we're going to need from them. I was taking them in and out, subbing them. They did it by committee. Enosch got on the floor about five or six times that vividly stick in my mind. He played an outstanding game. Once again it was an ESPN game, so he comes out on ESPN.

"We want to continue to build on this momentum going into the Big East, knowing it's going to be a challenge each and every game. But we're focused. Three words that we talked about in the locker room were desire, vision and focus. And I think we had that throughout the game.

Napier, who has made his case for Ollie earlier this season, was ecstatic for obvious reasons.

"We were definitely excited for him and we wanted to get his first career win as the long-term head coach. We just went out there and tried to give it our all. We were fortunate to come away with a win. I'm just happy it happened. He's been working so hard. He's kind of earned his spot."

But the congratulations will be short-lived; the Huskies begin their conference schedule in earnest on Tuesday, and their final 17 games will all be Big East matchups.

"I'm happy with 10 and 2," Ollie said, "but I'm not satisfied.... I think we can give a lot more, and I'm going to push the guys and will them to give a lot more. They've been doing it.... I want them to have the best attitude in America. And that's what we're going to strive for."

Napier added: "I think he's been doing a spectacular job on the court and also off the court. He and the coaches are the reason why we're 10-2."