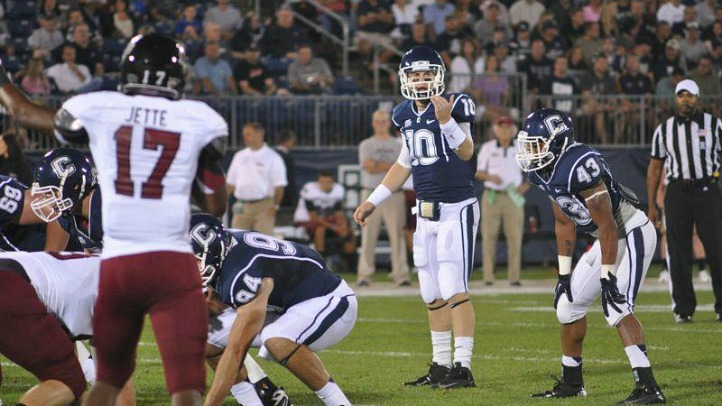 Chandler Whitmer's life won't get any easier this Saturday when the Huskies face the Terrapins. After a fast start to his UConn career against UMass, there were some proverbial bumps in the road when NC State came to town last week. But we mentioned it Tuesday: Whitmer's a redshirt sophomore who was playing junior college football a year ago. He's raw, but he also has tons of potential. Most of all, he needs time to develop.

And while he has plenty to learn there's no questioning his grit. Here is what we wrote earlier this week: "Whitmer has a bad habit of staring down his receivers and its led to some predictably awful interceptions. That said, he's one of the toughest players on the field, willing to stand in the pocket and take a hit if it means the chance at completing a big play down field."

Whitmer talked about that toughness on Wednesday.

"Like we've talked about before, I'm competitive and I want to make plays down the field," he said according to the Hartford Courant's Desmond Conner. "When we get a pass play called, I'm thinking 'I want to take a shot here' and it may not always be there."

As it stands through two games, Whitmer is 30-of-52 for 423 yards with no touchdowns and five interceptions. Not exactly all-conference type numbers, but the success will come.

"This is a different level of ball and you're not going to just give up the deep ball, and so I have to do a better job of knowing that, being able to check it down and stay in front of the chains; stay positive," he said via Conner. "It's tough because I definitely want to make a play. Maybe sometimes the best play is to just take what the defense gives me and keep it moving."

The interception totals will decrease in time, especially if Whitmer can start looking off defensive backs before making his throws. Coach Pasqualoni preaches this, too.

"Good judgment, don't force it, just don't force it," he said. "Throw it to the back underneath. Throw it out of bounds, pull it down and go get five yards. … Don't take the linebacker on. If you're running and here comes the safety or the linebacker, don't try to run over them. Johnny [McEntee] tried to do that one time last year and that's not good for a quarterback. Just go down on the ground."

Words to live by. Now it's just a matter of putting those words into action.