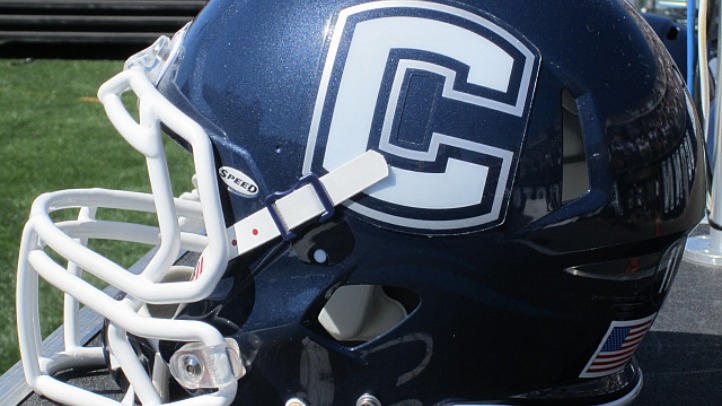 It's been a year and a half since we first wrote about wide receiver Tebucky Jones Jr., then an incoming freshman trying to find his place in UConn's system. He entered the program with Geremy Davis, one of quarterback Chandler Whitmer's favorite targets this past season.

Earlier this week, after catching just two passes in 2012 and five the year before, Jones announced he would transfer to Fordham. His father, a former NFL player, confirmed the move to the New Britain Herald's Kevin Roberts.

Stuff happens for a reason," Tebucky Jones Sr. said. "It happens for a reason. He needed to get out of there, and it was the right choice."

Roberts writes that Jones Sr. and coach Paul Pasqualoni haven't seen eye to eye since both were at Syracuse (the former as a player, the latter as his coach) back in the mid-'90s.
Jones Sr. and Pasqualoni had at it when Jones Sr. was switched over from running back to safety at Syracuse. Jones Sr. said knew he wasn't going to get playing time when Pasqualoni brought in Cheshire running back Kyle McIntosh, along with McIntosh's high school head coach Steve Addazio, so Jones Sr. told Pasqualoni he wanted to switch to the secondary. Pasqualoni was less than thrilled, telling Jones Sr. he would never play.

"I'm like, 'go ahead, do what you want to do,'" Jones Sr. said.
Incidentally, Jones Sr. was taken by the Patriots in the first round of the 1998 draft -- as a safety.

But Jones Jr., who was recruited by Randy Edsall and always wanted to play for the Huskies, didn't let those differences affect his decision to stay in Storrs when Pasqualoni was hired early in 2011. But after two seasons he's looking for a change; his father says Jones Jr. is headed to Fordham to "get an education and play football." He'll be reunited with former UConn backup quarterback Michael Nebrich, who transferred before the 2011 season.

For the Huskies, Davis and Shakim Phillips will head into the spring as the team's top two receivers.