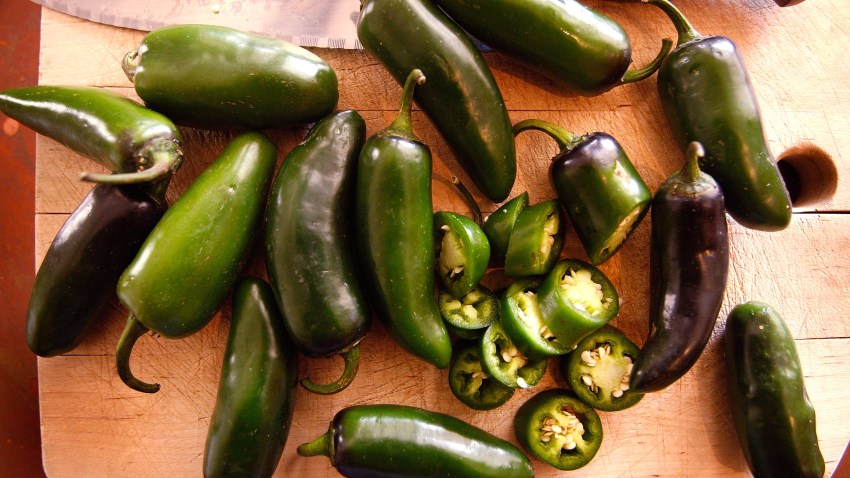 12 Jalapeno Peppers-split in half , seeds removed, fire roasted, peeled
1 tbsp. Vegetable Oil
1/2 cup Onion-small diced
2 tsp. Ground Cumin
¼ lb. Cream Cheese- softened
2 oz. Sharp Cheddar Cheese- small diced or shredded
2 oz. Mozzarella-small diced or shredded
½ cup Corn Kernels-fresh, or frozen thawed, or canned drained
¼ cup Dried Apricots-small diced
2 tbs. Fresh Cilantro-chopped fine
Salt, Pepper, and Tabasco To Taste
Using paring knife, split each pepper in half lengthwise and scoop out the seeds and white ribs leaving a hollow boat shape to stuff.
For stuffing,heat saute pan over medium heat, add vegetable oil and onions, cook for 1 minute until softened. Add the ground cumin, cook for 30 seconds.
Place in bowl with the cream cheese, cheeses, corn, dry apricots and cilantro, mix thoroughly, and season to taste.
Stuff each chile pepper.
Place on cookie sheet, and freeze for a half hour to firm up before breading.

For Breading and Frying:
1 cup A.P. Flour-seasoned lightly with salt and pepper
3 eggs-beaten with 4 tbsp. water for egg wash
3 cups Panko Bread Crumbs or substitute plain bread crumbs
Salt and Pepper To Taste
Vegetable Oil As Needed to Deep Fry

Place flour on plate. Combine bread crumbs and seasonings for final breading. Bread slightly frozen chiles by dredging stuffed peppers first in the flour, shake off excess, dip in egg wash, drip off excess, then dredge in the bread crumbs, coating all over.

· Heat deep fry oil in tall pot to 375°f. Deep and fry chiles four at a time until evenly golden brown. Gently remove and drain on paper towels. Serve on a bed of fresh tomato salsa and garnish with a dallop of lime flavored sour cream, lime wedge and cilantro or scallions.