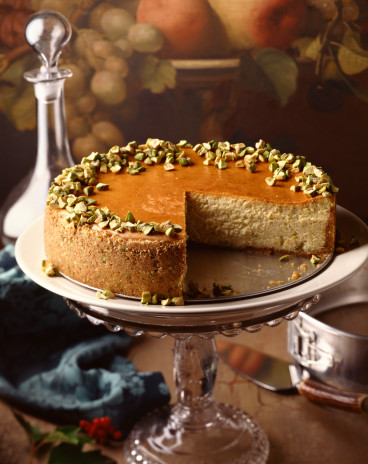 Makes 1- 9" Cake Pan
1 cup Graham Cracker Crumbs
¼ cup Sugar
1 ½ tsp. Ground Ginger
4 tbsp. Butter-melted
1 ½ lb. Cream Cheese-softened to room temperature
1 cup Sugar
¼ cup All Purpose Flour
1/8 tsp. Ground Nutmeg
¼ tsp. Cinnamon
¼ tsp. Salt
1 ¼ cups Canned Pumpkin Puree
1 tbsp. Pure Vanilla Extract
3 Eggs
Preheat oven to 325ºf.
Combine the graham crumbs, sugar, ginger and melted butter until evenly mixed.
Press the crust mixture into the bottom of an 8" cake pan that has been sprayed with vegetable spray and a parchment circle has been placed on the bottom.
Reserve.
To make the filling, cream the cheese and sugar together until very smooth.
Sift together the flour, nutmeg, cinnamon and salt.
Add to the cream cheese mixture and again mix until very smooth, scraping down with a rubber scraper.
Whisk together the pumpkin, vanilla, and eggs.
Gradually add this to the cheese mixture gradually, scraping down the bowl often.
Mix until very smooth.
Pour the mixture into the cake pan and bake in a shallow water bath for about 1 hour and 15 minutes or until set.
Cool thoroughly before un molding and serving.