It was a cold start to our new workweek Monday with many towns near freezing.
Some towns had temperatures in the mid to high 30s and low 40s.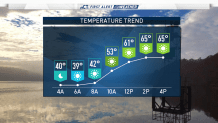 Temperatures bounced back as the day went on eventually moving into the mid 60s.
Tuesday will be sunny and a little warmer with highs in the low 70s.
The sunshine continues on Wednesday where highs will be in the mid-70s.
Thursday and Friday will be partly cloudy with temperatures in the mid to upper 70s.