The snow is continuing to make its way into the state. The storm is expected to continue moving through the state west to east.
The snow caused multiple traffic problems in southwestern Connecticut as it moved in early Saturday afternoon.
Part of I-95 south was closed in Greenwich after a multi-vehicle crash between exits 3 and 2. Shortly after, there was another crash on the same side of the highway between exits 5 and 4. The highway is expected to reopen fully within an hour or less.
There was also another crash on Interstate 84 westbound in Darien between exits 8 and 7. The crash has since cleared.
Road conditions are deteriorating quickly once the snow begins falling. The heaviest snow will occur between 6 p.m. and 10 p.m.
Right now, it appears the highest snowfall totals will be seen in northwestern Connecticut. This is where the coldest air will remain the longest.
We expect lower amounts closer to the coast and especially in southeastern Connecticut. This is where warmer air will transition snow to rain during the evening. Even inland, a period of rain is possible which will make the snow challenging to shovel.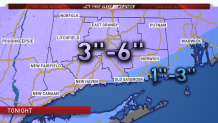 Winter Weather Advisories are posted for all of Connecticut and there's a Winter Storm Warning for northern Litchfield County.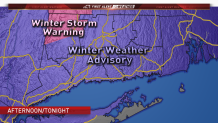 Some towns have already canceled activities and events due to the snowstorm. You can get the full list here.
Stay with the NBC Connecticut First Alert weather team for updates.