We're starting the last work week of August with a chance of thunderstorms where heavy rain is possible.
Today will be mostly cloudy with a high near 84.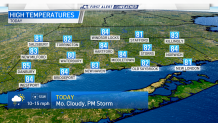 There is a chance of scattered showers and thunderstorms, mainly after 3 p.m. Some of the storms could produce gusty winds, lightning and heavy rain.
Tonight there will be patchy fog and more showers and thunderstorms are likely into the overnight hours. Those storms also have the potential to produce gusty winds and heavy rain.
Tomorrow will be partly sunny with a high near 83.
Remnants of Ida brings more rain Wednesday into Thursday.