A severe thunderstorm watch has been issued for the entire state through 8 p.m.
NBC Connecticut First Alert meteorologists are tracking the potential for severe storms this afternoon and evening.
Highs Monday will be in the upper 80s, though the humidity will make it feel worse.
Showers and storms are possible on and off throughout the day, but the chance for a severe storm looks highest in the evening hours.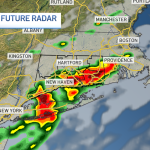 There is a chance some of the storms could produce a rotating storm and could spin up a tornado.
The biggest impact from the storms will be damaging winds. Large hail and flash flooding are also possible.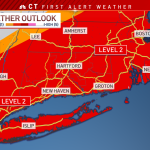 Eversource is advising customers to secure outdoor items in preparation for the storms.
Tuesday and Wednesday look more comfortable with highs in the mid to upper 80s and lower humidity.
You can get the latest forecast anytime here.