Despite a week of cooler temperatures, a pattern change is forecast to bring above normal temperatures leading into next week.
By Sunday, temperatures will be nearing 60 degrees for much of interior CT.
With water temperatures in the 40s on Long Island Sound, high temperatures will remain cooler.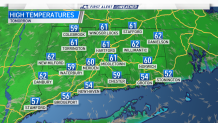 Little rain is expected until the end of the week.