Several areas across Norfolk were hit hard because of the storm that's actively passing through the state.
At one point, about 1,000 people were without power, including at a senior housing facility on Shepard Road. That number has since dropped to approximately 500.
Meadowbrook Senior Housing was without power and crews responded to the scene to assist. No evacuations were necessary.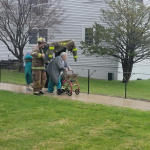 Some roads in town are closed as a result of downed trees and wires.
Route 272 is closed at Mountain Road because of a pole and wires down, according to the state Department of Transportation.
Part of Route 44 was closed near Botelle Elementary School due to several trees, wires and branches in the road, according to the Norfolk Fire public information officer.
A tree came down on Maple Avenue just past Hillside Street.
Severe thunderstorm warnings were issued for parts of Litchfield and Fairfield counties until 6:15 p.m. but those warnings have since expired.