Thunderstorms are likely as we head into the evening hours and the heaviest rain will be in western Connecticut.
About a half an inch of rain is expected throughout the state, with western Connecticut seeing around an inch.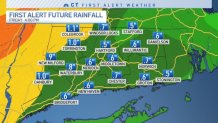 Clouds began to thicken this afternoon and rain is more likely tonight. The day started out cloudy and cool before the rain moved in.
The high temperatures will be in the low- to mid-50s.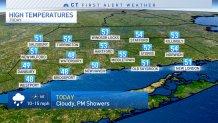 After the rain, Friday will be sunny and warm with high temperatures in the mid-60s. A couple of rain showers are possible.