Severe thunderstorm warnings for parts of Connecticut have been canceled as the storms weakened as they moved through the state.
A severe thunderstorm watch is in effect for the entire state through 9 p.m.
A cold front is moving through the state. The front triggered a few strong storm cells, but they quickly weakened as they moved into the state.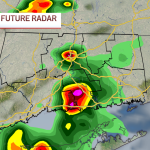 The cold front will usher in sunny skies and drier air for Sunday and Monday.