Our NBC Connecticut meteorologists are tracking a bit of snow that's expected to move in Friday evening.
The snowfall will continue overnight and into Saturday morning.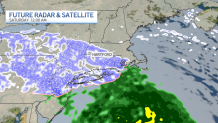 Along the New York border, some towns could see an inch or two. The snow will generally be light, with the best chance of accumulation in western Connecticut.
Wind gusts will pick up during the day Saturday.
Saturday evening will be mild after the storm system moves out.
You can get the latest forecast anytime here.