Rachael Jay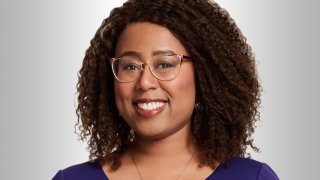 Rachael Jay is a meteorologist at NBC Connecticut.
She is recognized by the American Meteorological Society as a Certified Broadcast Meteorologist.
Rachael is passionate about making weather and science understandable, relatable, and fun.
Prior to joining NBC Connecticut, Rachael worked at HMTV6 in Hagerstown, Maryland, KWWL in Waterloo, Iowa, and WVEC in Norfolk, Virginia. She covered major weather events including Hurricane Dorian's landfall in North Carolina.
A Maryland native, Rachael is a graduate of Penn State where she also received a minor in Spanish. In her spare time, she loves studying different languages.
Her parents are from Trinidad and Jamaica, so she is seeking out the best Caribbean restaurant in the state!