A heavy burst of snow has moved through the state, causing low visibility on the roads and difficult driving conditions. Conditions have improved.
After the snow moves through, sleet and rain will take over with gusty winds and flooding also possible.
Dozens of schools dismissed early ahead of the storm. For the full list of closings, click here.
The storm will continue through the evening commute with scattered precipitation.
With a quick thump of snow this afternoon, some areas saw up to about an inch. An area of drier conditions pushed in but a little more snow is possible before rain takes over.
Winter weather advisories are posted for Litchfield, Hartford, Fairfield, New Haven, Tolland and Windham counties.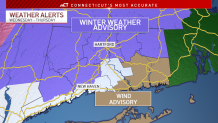 One to two inches of rain may fall in a short period of time. At that point, flooding is a concern.
Thunder is also possible. If there is thunder, it will be extremely loud.
Temperatures will go up more than 10 degrees overnight with expected temps between 45 and 50 degrees.
The rain will wash away the new snow.
Strong winds will also be a concern late Wednesday evening. A wind advisory is in effect for parts of New London and Middlesex counties.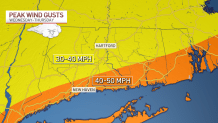 Minor coastal flooding is possible early Thursday morning with the high tide cycles between 1 and 3 a.m. along the shoreline.
A coastal flood advisory is in effect for parts of Fairfield, Middlesex, New Haven and New London counties.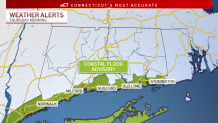 A shower is possible early on Thursday. Highs will be in the mid 40s. Friday looks sunny with highs in the low 30s.
As we look to next week, there are multiple chances for rain in the forecast.
You can get the latest forecast anytime here.