An area of low pressure moved into southern New England this afternoon and brought showers through parts of the state. Those showers are now moving out.
Cool temperatures accompanied the showers with highs only making it into the lower 60s.
Skies will brighten by Monday afternoon with temperatures rebounding to near 70.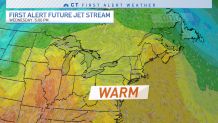 Much warmer temperatures will move in for most of next week.