A cold front positioned to our northwest will bring scattered showers and thunderstorms to the state as it approaches.
The thunderstorm threat is primarily isolated to northern Connecticut.
Thunderstorms and showers are expected after midnight and will be quite scattered.
Any thunderstorms that do form could produce strong wind gusts, heavy rain and frequent lightning.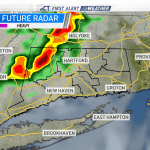 The humidity will drop as we head into Monday afternoon with another increase in humidity and a thunderstorm threat by Wednesday.
Weather Stories