The track for Tropical Storm Henri continued to shift west on Saturday morning, meaning more direct wind impacts from the storm are likely in New England.
The update at 5 a.m. from the National Hurricane Center said the storm shifted west which brings the eye of Henri into western Connecticut later on Sunday.
The further west the storm goes, the more power outages we can expect. Eversource warned if the storm makes landfall in western Connecticut, we could be talking about nearly a million customers without power.
NBC CT meteorologists expect Henri to pick up and become a hurricane by Saturday morning as it continues toward New England.
Bands of rains are expected to start in our state early Sunday morning, according to First Alert Weather meteorologist Bob Maxon.
Rain and winds will pick up during the day on Sunday and continue through at least Monday morning. The biggest impacts are expected on Sunday.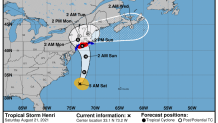 How soon the rain ends on Monday (or potentially Tuesday) will depend on if the storm stalls while over southern New England.
Over the course of Friday and into Saturday, the track and forecast will come into clearer focus.
We will continue to update your First Alert forecast in the NBC Connecticut app and you can always find the latest details here.