The morning commute was a difficult one across the state with icy roads and several schools delayed opening because of it.
Light snow, sleet and freezing rain caused dangerous conditions and there were several spinouts and crashes.
State police said there were 285 crashes, including 30 where there were injuries and one of them was fatal.
They also said they assisted 101 drivers.
Wolcott Police said the roads were dry until the rain started falling at 6 a.m. and it froze on contact.
The town crew went right out and began to salt and salt trucks themselves were having a very difficult time getting around and one was involved in a minor crash, police said.
Ambulance and police cars were having difficulty themselves getting out to accident scenes because of this ice, they said, and there were 15 crashes between 6 a.m. and 8 a.m.
The state Department of Transportation urged drivers to stay off the roads if they could.
Some town officials, including in New Canaan, urged people to stay off the roads for a couple of hours.
The emergency management director for the town of New Canaan issued a warning at 7 a.m. for people not to travel for the next two hours because the roads are completely impassable due to flash freezing and ice.
Someone was seriously injured in a crash on Interstate 395 in Plainfield.
Police said a tractor-trailer was involved in a crash just before 6:30 a.m. and state troopers who responded said there were serious injuries.
The road is closed as police investigate.
See our story of major issues here.
Check the state list here for issues on the roads near you.
You can see all the crashes across the state here.
After the wintry mix this morning, NBC Connecticut First Alert meteorologists are tracking the possibility of four inches of snow on Friday.
The snowfall potential for Friday is for about four inches of snow, almost everywhere across the state. The NBC Connecticut meteorologists will be watching this over the next day or so. Model data has fluctuated greatly since Monday.
This could impact the Friday morning commute.
A little wintry mix this morning will transition to scattered rain showers.
A winter weather advisory is in effect Wednesday through late morning for a glaze of ice in most of Connecticut.
Accumulating snow looks like the main threat for Connecticut.
Our meteorologists are forecasting two to four inches of snow for most of the state with four to six inches possible in parts of Windham and New London counties.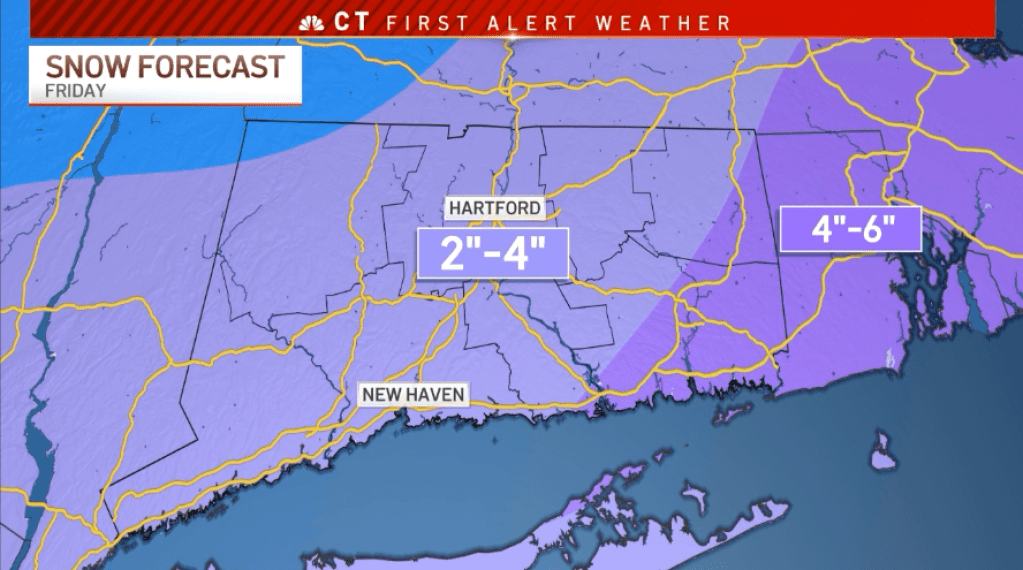 The storm has to travel across the country before moving northeast off of the East Coast. Snow starts on Thursday night and falls through early Friday afternoon.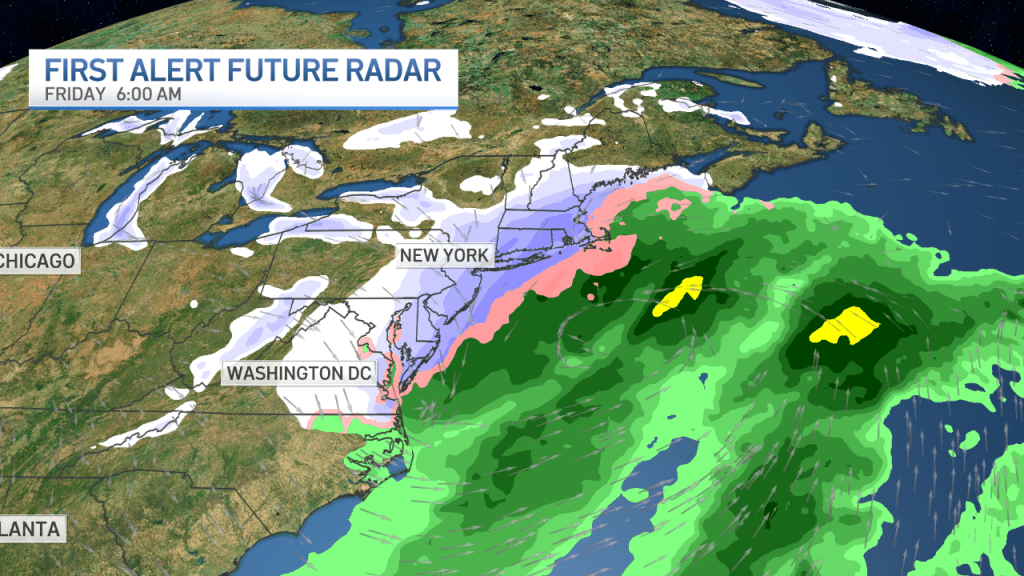 We're still a couple of days out from the event so there's still time for things to change with the forecast.
It may be breezy to gusty on Friday while the snow is falling as well.