An area of high pressure will bring an end to the wind and is bringing warmer temperatures and plenty of sunshine.
Temperatures will climb between 65 and 70 degrees for most of the state. However, a pronounced sea-breeze will develop along the shore.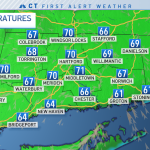 Parts of the southeast corner of the state will likely see temperatures fall through the 50s during the day.
A warm front will approach the state on Monday with increasing clouds and a couple of showers. Temperatures will be noticeably cooler on Monday with a wind off of the ocean.