Picture this: You're supposed to be on your dream European cruise, but instead you're stuck on land thousands of miles away from home with no place to stay.
Mike and Deana Dillon say that's just the beginning of their travel nightmare that cost them thousands of dollars and stranded them overseas, too.
The Shelton couple had been dreaming of this trip after a tough couple of years.
"I was sick. I had cancer and so I needed something to look forward to," Deana said.
The Dillons booked a package deal, a flight and European cruise, through Norwegian Cruise Line.
But even before they left the states, there was trouble afloat.
When they got to the airport, they were shocked when they found out their flight was canceled.
NBC CT Responds
"I was mad. I was trying not to cry," Deana said.
The airline workers were on strike and the Dillons say they got no notice of the cancellation.
"I get on the phone with Norwegian and they say there is nothing we can do to help you out. 'Figure it out yourselves with the airline agency,'" Mike Dillon said.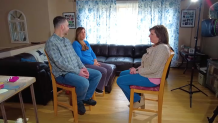 "Were you surprised by that? Because you booked everything through them," asked NBC CT Responds Consumer Reporter Caitlin Burchill.
"Very much so," Mike said.
But the Dillons didn't let that get them down. They worked with the airline to find another affiliated flight and made their way overseas.
"At that point I call Norwegian again and say, 'Here's our revised itinerary,'" Mike said.
He says the customer service representative told him, "'You have to be at the boat by 2 p.m.' We would have been there shortly thereafter 2, so they said, 'We will not let you on the boat.'"
The company tells NBC CT Responds, "it is standard that all guests must board the ship a minimum of two hours before departure, in order to facilitate the embarkation process…" among other things.
The cruise line told the Dillons they could board at another port.
Mike says to do that, a customer service representative told him, "'Maybe we can get you in on the third stop on Tuesday, but we'll have to have our 'emergency travel team' call you because we don't have the ability to do that.'"
But the Dillons say the calls from this team never came, so they repeatedly called customer service. They shared those call logs with us.
But the Dillons say every time they reconnected with a representative, they repeated to hold tight for a call back from this so-called emergency team.
"Did they ever call you?" Burchill asked.
"Never called," Mike said.
Silence and stuck in Europe, the Dillons returned home on their own dime, depleted, no cruise, no pictures to display on their travel wall and down and out thousands of dollars, too.
NBC CT Responds reached out to Norwegian. The company tells us the Dillons were not calling the right phone number.
But when we called the same number that the couple did, we were told by the customer service rep it was the correct number to call regarding canceled flights.
Deana said that's, "why it's so frustrating because it's like we tried. Give us something. Give us some indication that you're thinking about your passengers, your guests."
"We had pretty much given up all hope at that point after eight months of continuous fighting," Mike said.
But since NBC CT Responds began reaching out to the cruise line about the Dillons' situation, Norwegian has made a big change to one of their policies.
The company now allows travelers in the Dillons' predicament, whose flight was booked by the cruise line but canceled by the airline, to get refunded in future cruise credits.
So then, we went back and asked Norwegian if they'd apply this retroactively for the Dillons.
"I was sitting on my couch, and we got the email, and I was like, I had to look twice because I was like wait a minute," Deana said.
Months after their dream cruise left port, NBC CT Responds helped the Dillons recoup more than $7,600 that they thought were lost at sea, in the payment of credits to be used towards a future cruise.
But originally the company told us the same thing they had been telling the Dillons, that "although Norwegian Cruise Lines offers flight arrangements as part of their cruise package, we do not have direct control over the operations of the airlines and are not responsible for their cancellations, delays, service, etc."
It's a detail written in the fine print when you book, despite the company advertising, "We've got your vacation covered from air to sea."
Norwegian says guests need to work directly with the airline if there's an issue, which is why they "highly encourage guests to purchase travel insurance for unforeseen circumstances such as this."
"If it wasn't for the news coming in and saying, 'Hey we're going to help you out and do this story,' I don't know if they would have even started returning calls," Deana said.
The Dillons did have travel insurance. They bought it through Norwegian's website and had been fighting for a claim, too.
Once NBC CT Responds reached out to the insurance company, it shelled out another $1,000 to the Dillons, helping them get back a total of almost $8,700.
But the claim payout was just a fraction of what they spent to get a hotel and make their way back to the states, so the Dillons hope folks watching read all the fine print, so your dream vacation goes more swimmingly than theirs did.
"You always hear the stories, see the news stories, all these horrors and these nightmares…Never at any point do you think it's going to be me on the other end of that. But here we are. It was us," Mike said.
Travel Agent's Take on Package Deals
Looking back, even if the original flight took off as planned, the Dillons say it would have been tight to make cruise check-in.
"So it makes you wonder, if they're doing this and they put these packages together, they don't have that forethought that let's allow extra time?," Deana questioned.
A Danbury travel advisor we spoke to says that's not surprising. She says package deals bought online tend to be put together by the company's online booking system using algorithms, not necessarily smart, personal travel planning.
"They might put you on a flight with a stopover that might be that it's just too short. And you wind up missing your connection," said Anne Densk, a travel advisor with Daybreak Destinations Travel and member of the American Society of Travel Advisors.
Densk suggests reaching out to a cruise customer service rep if you have questions or want to make changes ahead of time.
She says you or a travel advisor need to check every detail carefully before buying and booking the package deal.