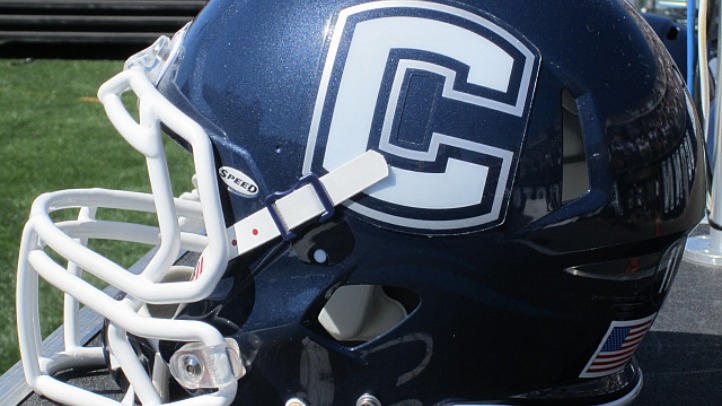 It's June, the slowest part of the athletic calendar for UConn, which means that recruiting goes into overdrive. Whether it's locking up commitments for the upcoming class or laying the groundwork for future recruits. We wrote last week that the Huskies had landed Texas high school quarterback Richard Lagow, who should help bolster a position of weakness just last season.

UConn hasn't been afraid to spend on recruiting and the hope, of course, is that the payoff comes in the form of wins. But that's the meta view. On the micro level, coach Paul Pasqualoni and his staff continue the day-to-day tasks of finding the right kids for the program. According to the New Haven Register, Coventry/Windham Tech junior tight end Tom Myers is UConn's latest commitment.

"He's a terrific athlete and has a tremendous upside," Myers' high school coach Tony Bonito said. "He's fast, he's tall and he's athletic. … He made a decision he wanted to be a Division I football player and committed himself to becoming that."

Myers, 6-4 and 235 pounds, has a 37-inch vertical and runs a 4.8 40. In addition to UConn, Temple -- the latest football addition to the Big East -- recruited him.

Ryan Griffin, a redshirt senior, was one of Johnny McEntee's favorite targets last season (and that shouldn't change in 2012). But he'll graduate next spring, most likely with a chance to play in the NFL. So it made sense for UConn to add depth at the position this summer.

But as the Register notes, recruiting is a two-way street. While Myers committed to the Huskies, another recruiting target, Buckingham Browne & Nichols tight end Brendan O'Neil, is headed to Wake Forest. (In addition to the Huskies, O'Neil had offers from UMass and Temple).

It's one thing to lose out on a recruit. It stings a little more when a player de-commits. Which is what happened with offensive lineman Matt Barone, who now appears headed to Temple.