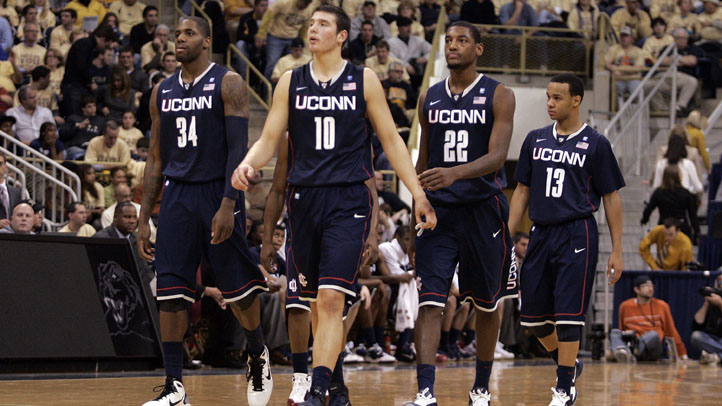 Not many people would categorize Thursday's Fairfield-UConn matchup at the XL Center as must-see. Vegas has the Huskies (9-1) favored by 11 over Stags (7-4) and that seems reasonable. Yes, Fairfield has beaten Arizona State this season, and they've won four in a row, but UConn is one of the most talented teams in the country with depth to spare.

Which leads us to sophomore big man Tyler Olander, who has started seven of 10 games, and is averaging 6.4 rebounds and 7.5 points in 26.2 minutes of action. Coach Jim Calhoun spoke glowingly of Olander after UConn beat Columbia in the season opener (despite being out-rebounded, 43-41).

"We don't have anybody in the front court that can play right now, or is ready to play right now, except for Tyler, who understands how to play basketball," Calhoun said back in mid-November. "Tyler was our anchor for the whole first half. And then he got tired."

Come Thursday at 7 p.m., there will be two Olanders on the floor. For the first time, Tyler and big brother Ryan will square off in an organized basketball game.

"We're very excited about it," said proud father Skip, according to TheDay.com. "We have about 30 relatives coming. It's not bigger than the game itself, but it's a big event for our family."

You'll be able to spot the Olander support team because they'll be wearing t-shirts.

TheDay.com's Gavin Keefe has the details: On the front, the shirt reads "FairConn." Number 34 (Ryan) is on one sleeve and No. 10 (Tyler) is on the other. The words, "Olander, Either Way We win," are on the back.

"It's going to be really weird at first when we both step out on the court at the same time," said Tyler. "I've just got to get focused right away on what we have to do as a team."

The Olanders grew up some seven miles from Gampel Pavilion, and while they've never met in an organized game, they competed against one another growing up.

"Oh my God, I don't think they ever finished a game," Skip said, via the Hartford Courant's Jeff Jacobs. "When one got ahead by a little bit, there'd be a fight. We had to monitor games and break them up when we thought somebody might get hurt. It was very intense."

Said Tyler: "Whether it was a physical fight or yelling and screaming, it was always something," Tyler said.

"There never was a winner," Ryan added. "They always ended in a fight." But that's what it's like competing against your brother. Now, though, Tyler and Ryan are close.

"They both have a deep love for each and respect for each other," Skip said. "Tyler loves his older brother, he did everything Ryan did."

Ryan, who is listed at 7-0, is Fairfield's second-leading scorer (11.9) and is shooting .558 from the floor. He has range, too; he's converting .375 of his looks from beyond the arc.

Fun starts at 7 p.m. -- and don't forget your t-shirt.