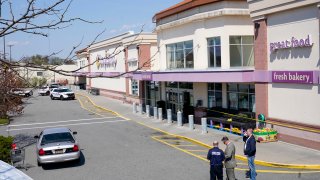 What to Know
1 person is dead and 2 are wounded after a shooting at a Long Island grocery store Tuesday morning, police said at a news briefing
A person of interest who cops "believe" to be the shooter has been identified as Gabriel DeWitt Wilson; he was taken into custody hours after the deadly shooting, law enforcement sources said
In a statement, Stop & Shop said it was "shocked and heartbroken by this act of violence that occurred at our store" and pledged its full cooperation with the investigation
A man wearing all black walked into an upstairs office area of a Long Island Stop & Shop late Tuesday morning and shot three people, killing one of them, in the town of West Hempstead before fleeing the scene, Nassau County police officials say.
Gabriel DeWitt Wilson, a 30-year-old man authorities describe as being a person of interest whom they "believe" to have been responsible for the 11:20 a.m. gunfire at the supermarket on Cherry Hill Avenue, was taken into custody around 3 p.m., according to four law enforcement sources and the county executive.
Details on his apprehension, which came about four hours after the deadly shooting, weren't immediately known.
Police say witnesses reported seeing Wilson flee the area with a small handgun. Earlier, a senior law enforcement official said Wilson may have hopped on a bus to escape. He was last seen heading west.
Wilson has employment ties to Stop & Shop but it's not clear if he currently was working at the West Hempstead location, investigators said. Both a Stop & Shop worker and a New York uncle of Wilson told News 4 New York the suspect worked in front of the store and moved shopping carts.
Police officials wouldn't speculate on a potential motive when asked about the workplace connection Tuesday.
"Do not approach if you see him; please call 911 immediately," Nassau County police warned. "If you you have ANY information regarding this person of interest, please call Nassau County Crime Stoppers at 1-800-244-TIPS (8477)."
It wasn't immediately clear if the victims were targeted specifically but all appeared to be employees with Stop & Shop, investigators said. The victim who died was a man around 49 years old. Two other victims were taken to area hospitals; they were said to be conscious and alert and assisting law enforcement. Their identities haven't been released and the nature of their injuries wasn't known.
The West Hempstead School District confirmed that its schools were in a "lock out" and urged the public not to come to its buildings. A spokeswoman for Nassau County said police were asking all nearby residents to remain indoors.
Video from the scene showed at least a dozen ambulances and police vehicles gathered outside the Cherry Valley Avenue store. A few hundred shoppers were said to have been in the supermarket at the time of the shooting. Nassau police stopped to question as many as they could and identify strong potential witnesses.
A woman who had just pulled into the parking lot to do her shopping says she was walking in the door when people running out told her there had been a shooting.
"Everybody seemed to start running out of the store, panicked and frantic," Liz Crew-Lee told News 4 of the commotion moments after the gunfire.
Law enforcement sources with direct knowledge of the investigation tell News 4 Wilson used to live in Reisterstown, Maryland, which is in Baltimore County.
He was previously arrested there for assault in 2006 and had a number of marijuana possession busts, the sources say. Details on the cases and any possible convictions weren't immediately clear. Sources say Wilson lived in Maryland through at least 2010.
The uncle of Wilson News 4 spoke with described his nephew as a good kid who could be a "hothead." He just hopes he'll be taken into custody alive.
Gov. Andrew Cuomo said New York state was closely monitoring the developments.
"The New York State Police has been directed to assist local authorities in their search for the perpetrator, and my team and I are in constant contact with first responders on the ground," the governor said. "I'm praying for the victims, and my heart breaks for their families and loved ones."
John R. Durso, president of Local 338 RWDSU/UFCW, which represents many workers at the West Hempstead Stop & Shop, said the union was "devastated" by Tuesday's shooting.
"Our thoughts are with the victims, their loved ones, and all those, including workers and customers, who witnessed today's horrifying events. Our priority is and always will be the physical and mental well-being of our members," Durso said in a statement. "Representatives of our union are onsite at Stop & Shop and will be ensuring that our members have all of the support they need, including access to counseling. We encourage our members to reach out to us for anything they may need during this difficult time."
"The working people at Stop & Shop are essential workers and ensured that all of our communities, including West Hempstead, had what they needed to navigate the pandemic," Durso added. "The last year has been one full of resiliency, but also one of great worry. These workers have been through a tremendous amount and should never have to fear for their safety. We as a society must recognize that gun violence is a workplace safety issue and that as part of this healing, we must make changes to ensure that this doesn't happen again. We owe it to our essential workers."
This is a developing story.
Copyright AP - Associated Press