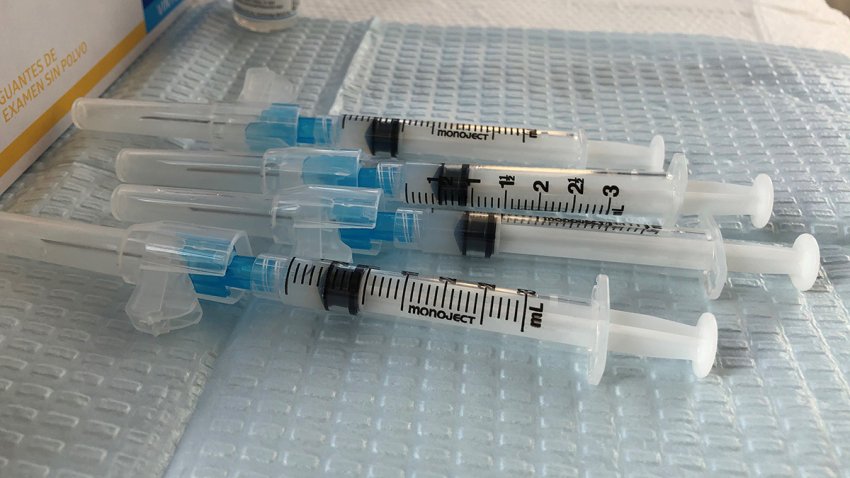 The City of Hartford is holding two no-appointment, walk-up COVID-19 vaccine clinics this week for Hartford residents who are 18 years old and older.
The first clinic was Tuesday at the Swift Factory in the North End. The second will be on Wednesday at the Free Center. 
Note: These clinics are for Hartford residents only who are 18 and up. You must show a photo ID or a piece of mail that is less than 90 days old and has a Hartford address. Walk-ups are welcome and no appointments are needed.
At an event at the Swift Factory Tuesday, Hartford Mayor Luke Bronin said these walk-up clinics are now a priority for the city.
"A big part of our effort to get our community vaccinated is to remove every barrier, to make it as easy as possible," Bronin explained.
City health officials also noted that all Hartford residents will be able to get a vaccine, regardless of immigration status.
The mayor also announced that the city is partnering with Harriott Home Health Services to vaccine those who are homebound. Right now the partnership is vaccinating about 80 people a week, though the goal is to reach 100 vaccinations at week.
City officials said vaccine hesitancy is still a concern. They urged those taking a "wait-and-see" approach not to wait, but to get vaccinated before the spread of variants can hinder the effort.
COVID-19 Vaccine Clinic at Swift Factory
Swift Factory is located at 10 Love Lane in Hartford and the clinic is outside, in front of the Swift Factory.
The clinic began at 2 p.m. and ends at 6:30 p.m., or when vaccines run out. Bronin said there are 250 Johnson & Johnson doses available through the event.
COVID-19 Vaccine Clinic at Free Center Wednesday
The second will be on Wednesday at the Free Center.
Free Center is at 460 New Britain Ave. in Hartford and the clinic is indoors.
Both clinics begin at 2 p.m. and end at 6:30 p.m., or when vaccines run out.
City officials said each clinic will vaccinate 200 residents. Residents will be given appointments for other clinics if they aren't able to be vaccinated.
A third walk-up clinic is expected this week as well.
"Our first walk-up clinic last week was a huge success, and we have more opportunities this week for hundreds of residents to get vaccinated without any appointment, right in their neighborhood," Hartford Mayor Luke Bronin said in a statement."
Stories from LX News
LX, or Local X stands, for the exponential possibilities of storytelling in our communities.
People 16 years old and up are now eligible for a coronavirus vaccine in Connecticut and you might not get an appointment right away, but you can find one. The keys to finding one are to check several different websites and to keep checking through the day.
As of 10 a.m. on Wednesday, March 31, the Vaccine Administration Management System opened for registration for all Connecticut residents 16 and older.
Tips to Get a COVID-19 Vaccine Appointment in Connecticut
Several healthcare providers, pharmacies and the Centers for Disease Control have different websites that allow you to book an appointment. Check several of them rather than just one. See below for links of providers in Connecticut.
Many systems will automatically search for clinics within five or 10 miles of your zip code. Expand your search area to find more locations.
Be persistent.
Even if a website says no appointments are available, check to see if something was added recently because the site might not have updated to reveal that more appointments are available.
Keep checking back through the day because appointments do open up.
Find a slot that works for you, and book your appointment.
State officials encourage you to keep checking back for newer and sooner appointments but ask that you please remember to cancel the old appointment to free that space up as soon as possible for others who need it.
Check your city or town website to see if there is a waitlist.
Who Can Get a COVID-19 Vaccine in Connecticut
The state started the vaccine rollout in mid-December by vaccinating healthcare personnel, long-term care facility residents and medical first responders.
As of mid-January, Connecticut residents 75 and older have been able to sign up for an appointment and get a vaccine.
Pre-K-12 Teachers, paraprofessionals, custodial staff, food service providers, school bus drivers and childcare providers as well as in-school administrative staff. This group does not include individuals who are not required to work on-site in a school.

Note: Pre-K-12 school staff and teachers, and professional child care providers will be eligible for the vaccine.

People 45 to 55
People 16 and up
Note:To get a vaccine in Connecticut, you must either live or work in the state. If you typically visit a provider here but do not live or work in Connecticut, you are not eligible and must get vaccinated in your home state.
Stories from LX News
LX, or Local X stands, for the exponential possibilities of storytelling in our communities.
How to Get an Appointment for a COVID-19 Vaccine in Connecticut
By phone: Call Connecticut's Vaccine Appointment Assist Line at 877-918-2224, seven days a week from 8 a.m. to 8 p.m. for scheduling at select sites.
Online: Schedule a COVID-19 vaccination appointment in VAMS, the Vaccine Administration Management System.
Fill out the form to let the Department of Public health know you are interested in creating an account in VAMS. If you are currently eligible to receive the vaccine then you should receive an email from VAMS to complete your registration within 12 hours. Click here to create an account.
Check for an email from no-reply@mail.vams.cdc.gov. Click on the link in the email and create your account. You will be prompted to retrieve a code that will be emailed to you. You will need to create a password and store it in a safe place.

If you forgot your password, the "forgot password" link on the login page can only be used if you have created a password as part of your VAMS registration.

Complete your VAMS registration.

The first question that will be asked in VAMS is "Have you already registered as a vaccine recipient with VAMS?" The answer to this question is "No."
Questions with a red asterisk are mandatory. 
Insurance information does not need to be entered.
You will be prompted to share some additional information about yourself.
In order for VAMS to recognize your option chosen for race, click on your choice in the box on the left and click the right-pointing arrow to move your choice to the box on the right.

Use your zip code to search for clinics near you in VAMS.

The system will automatically search for clinics within a 10-mile radius of your zip code, but you may choose up to 100 miles from the dropdown menu, which might provide more clinic locations in your search results.
You might need to check multiple clinic locations to find an available appointment. Find a slot that works for you, and book your appointment.
Find a Location Near You
You can find a location near you here.
Providers With Their Own Vaccine Sign-Ups
Joel Leyden, the executive director of Vaccineangel.com, had advice for anyone trying to book an appointment with CVS and said you're first going to see no appointments available. But if you click on another state, like Alabama, you fill out all the questions in Alabama and then you go to the bottom of the page and you put in Connecticut and you might see 30 to 40 pharmacies that are offering the vaccines.
Cities and Towns Helping With COVID-19 Vaccine Sign-ups
In addition to signing up through VAMS, the state vaccine line, a provider and pharmacy, some cities and towns have additional sign-up methods or phone lines to call for help.
Bethel: Residents 65+ can pre-register online here: https://www.bethel-ct.gov/content/117/478/20695.aspx

Residents who do not use a computer can register through the Bethel Vaccine Infoline at 203-794-8523.
Seniors can also call the Bethel Senior Center at 203-794-8593 for help registering. The 75+ age groups will continue to be the first priority, but the town will move immediately to the 65+ group as quickly as supplies allow.

Branford: Branford has clinics every Wednesday at the Community House Gymnasium by appointment only. Eligible individuals must be registered in VAMS to schedule an appointment. Individuals who do not have computer access can call the Canoe Brook Senior Center COVID Vaccine Hotline at 203-315-0685 for assistance. If you need assistance, call the Canoe Brook Senior Center or the First Selectman's Office at 203-315-0620.
Bridgeport: Call the Senior Center Help Line, Monday through Thursday, 10 a.m. to 5 p.m. at 203-576-7993.
Bridgewater: Bridgewater is taking COVID-19 vaccination pre-registration for people 55 and up. Click here.
Bristol: The Bristol Burlington Health District and the Bristol Senior Center are holding vaccine clinics for people 75 and up every Wednesday at the Bristol Senior Center. Appointments are required.

If you are eligible, call the Bristol Senior Center weekdays between 8:30 a.m. and 5 p.m. at 860-584-7895 to sign up for a time slot.
Check with your physician to make sure you are a good candidate to receive the vaccine.

Canaan: If you need further information on COVID Vaccines or help on how to get one, contact Theresa Snyder Graney at socialservices@canaanfallsvillage.org or call 860-824-9855.
Colebrook: Colebrook is helping some residents register for the COVID-19 vaccine. If you need assistance or know of an older friend/neighbor/relative that needs assistance, call the Selectman's office at 860-379-3359 Ext. 201.
Fairfield: Fairfield's COVID-19 Vaccine Call Center is 203-256-3082 to help eligible vaccine recipients. The call center will be open Monday through Friday from 10 a.m. to 1 p.m. Voicemails will be returned when calls come in outside the operating hours.
Farmington: If you have a friend or loved one who does not use the internet and you are unable to assist them, call Farmington Community Services at 860-675-2390. Staff can help residents create accounts, locate sites and schedule appointments.
Haddam: Seniors who need assistance with the registration process for a COVID-19 vaccine, call Jessica at Haddam Senior & Social Services at (860) 345-4621or email socialservices@haddam.org between 9 a.m. and 2 p.m. to make your appointment.
Madison: The Town of Madison is collecting information from residents age 65 and up who would like to be notified when the COVID-19 vaccine is available. By registering, the town can update you as information becomes available. Click here. If you are having difficulty using the online form, call the Madison Senior Center at (203) 245-5627 for assistance.
Naugatuck: The Naugatuck Valley Health District is administering the Moderna vaccine. Residents in need of scheduling help can call 203-881-3255, extension 108.
New Canaan: New Canaan residents over age 55 may register to be vaccinated at Lapham Center over the next few weeks. Click here for the voluntary vaccination sign up https://forms.gle/9SF2Pmnn8sVDhyfS8 and on the Covid-19 page of the Town's website. If you already completed the form you do not need to complete it again. The Health Department will call you when they have an appointment available for you. New Canaan seniors over age 65 may also register for vaccination appointments at other area clinics.
New Haven. If you have questions about a vaccine or need to cancel an appointment, e-mail NHVax@newhavenct.gov.
Norwalk: Residents who wish to receive email or text updates regarding the COVID-19 vaccine from the City can now sign up at norwalkct.org/vaccineupdate. Residents can enter their email address and/or cell phone number to be alerted of changing news, updates, and vaccine eligibility.
Old Lyme: The Town of Old Lyme is assisting residents ages 65 and who need assistance arranging an appointment to receive a COVID-19 vaccination. If you or your loved ones are having difficulty registering, call (860) 572-6246.
Ridgefield: Call the Department of Social Services at: 203-431-2777 or Founders Hall at 203-431-7000 or the Town Helpline at 203-431-2718.
Waterbury: You can schedule an appointment directly with the Waterbury Department of Public Health by calling 3-1-1.
West Hartford: West Hartford: Residents who have questions about obtaining a COVID vaccine can call West Hartford's Information Line at 860-561-6998, Monday through Friday, from 10 a.m. to 5 p.m. and on Saturday, from 10 a.m. to 1 p.m. Residents cannot register for the vaccine through the Information Line. The service is intended to provide guidance and information regarding the vaccination process.
Westport: Human Services staff does not have access to the VAMS portal and cannot register on a resident's behalf. However, residents may contact (203) 341-1050 or (203) 341-5037 or humansrv@westportct.gov for additional assistance, as needed.
Windsor Locks: Windsor Locks Offers COVID Vaccine Hotline: 860 654-8979
Woodbury: Pomperaug District Department of Health, serving Southbury, Woodbury, and Oxford, holds vaccine clinics by appointment only. Click here for information.
Woodstock: Woodstock residents 65 and over who want assistance making an appointment for a COVID vaccine may call Su Connor, Agent for the Elderly, at 860-974-1705.
What to Do If You Are Having Trouble Signing Up?
What Coronavirus Vaccines is Connecticut Getting?
Pfizer

For CT residents 16 and up.

The recommended time between doses: 21 days

Moderna

For CT residents 18 and up
The recommended time between doses: 28 days

Johnson & Johnson

For CT residents 18 and up
With three coronavirus vaccines now approved in the U.S., learn the difference between them.