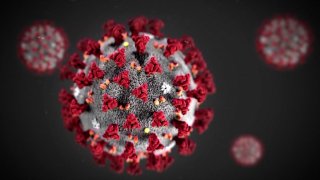 Coronavirus hospitalizations continue to trend downward and a little above one percent of the tests performed yesterday have come back positive.
Three more deaths have been reported, bringing the total deaths in Connecticut to 4,263.
There were 27 additional cases reported across the state, bringing the total to 45,782.
A little over 2,000 tests were performed yesterday. The decrease in tests performed has nothing to do with federal officials saying states need to tone it down on coronavirus testing, according to Governor Ned Lamont.
Conn. Coronavirus Positivity Rate Much Lower Than Other States Across U.S.
Lamont said coronavirus numbers continue to trend in the right direction, which he says is not true across the country.
The positivity rate for COVID-19 has gone up in certain states across the country, according to Lamont. In a conference with other governors and Vice President Mike Pence, it was noted that particular areas in states such as Arizona, Texas, California and Florida have reached positivity rates around or above 10 percent.
In a total of over 3,000 counties across the U.S., over 100 counties have had high coronavirus flare-ups, Pence said.
The U.S. is seeing a large spike of coronavirus cases in the 18-35 age group, Lamont said. These cases are reported in people who are largely asymptomatic but are less likely to go to the hospital and die from the virus.
Talks of a Regional Quarantine
There have been talks of implementing a regional quarantine, Lamont said.
Lamont said a possible regional quarantine would be implemented by tying it to areas with higher positivity rates. He said he would like to test, or quarantine, those people to make it safer for everyone.
"I'm envisioning people coming in from Bradley, Newark, Logan airports. They will be required to self-quarantine or show [they] were tested," Lamont said.
Conn. is looking at possibly doing a regional quarantine with Rhode Island and Massachusetts. Lamont said he is in the process of reaching out to other governors.
He said there will be more guidance on whether this will be implemented and what it would entail very soon.
Lamont Urges Conn. Residents to Continue Getting Tested
Despite federal officials urging a decrease in testing, Lamont said to get tested immediately if you have any symptoms or live in a hotspot area.
"Whatever you heard this weekend about there being too much testing, ignore that," Lamont said.
If you live in an area with a larger population and higher infection rate, Lamont said you should get tested monthly "with no questions asked."
He said wearing a mask is the biggest determinant for infection rate.