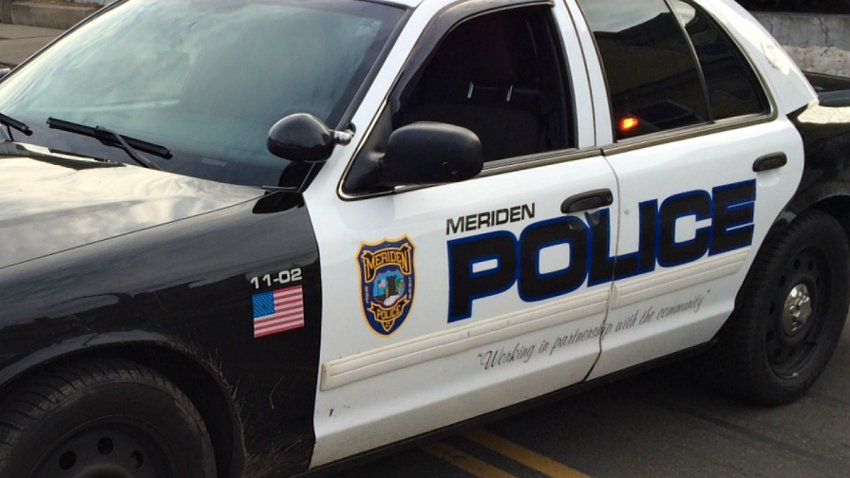 A driver rammed a car into several police officers and ran over one officer's foot in Meriden Monday evening, according to police.
Officers pulled up to a vehicle on North 2nd Street around 5:20 p.m. to identify three people in the car and the driver, Luis Camacho, sped up and drove straight into one of the two police vehicles that had pulled in front of it, then backed up and slammed into another police car that had pulled up behind it, police said.
Camacho then sped up again and hit the second police vehicle that had pulled up in front of it and pinned an officer who was trying to get out of his cruiser between the car door and the frame of the vehicle, police said.
Camacho got past police, drove up onto the sidewalk and police used stop sticks to pop three of Camacho's tires, but he drove away and an over and officer's foot, police said.
Officials said Monday that police pulled over the individuals after observing their car matched the description of a vehicle used in a recent shooting.
Police found the car on Chamberlain Highway, near Pasco Street, and said the three people who had been in the car ran and one threw a gun into a trash bin.
K-9 Mika found a second gun, which police believe one of the suspects threw, and a fully loaded magazine.
Five officers were injured and the injuries ranged from a concussion to a broken foot as well as sprains and strains, police said.
Camacho, 25, of Meriden, was charged with five counts of assault in the second degree, five counts of assault on a police officer, carrying a pistol without a permit, reckless endangerment in the first degree, possession of a high-capacity magazine, weapon in a motor vehicle, four counts of evading responsibility, reckless driving, engaging police in a pursuit, misuse of license plates, no insurance, no license and operating an unregistered vehicle.
Bond was set at $1 million.
A 17-year-old young man from Meriden was charged with interfering with police and bond was set at $10,000.
A child was charged with carrying a pistol without a permit, weapons in a motor vehicle and interfering with an officer and will be transferred to a juvenile detention facility.