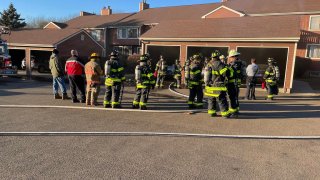 A garage fire in Branford destroyed a car and sent a person to the hospital with a burn injury Wednesday afternoon.
Firefighters put out the garage fire at Orchard Heights Condominiums on Florence Road just before 4 p.m.
Crews put out the blaze shortly after getting to the scene, which prevented the fire from spreading to neighboring cars and buildings.
The car inside the garage was destroyed and firefighters said a person was treated and transported to the hospital with a minor burn injury.
The cause of the fire is under investigation.