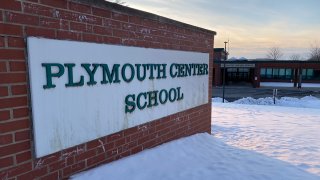 Charges have been dropped against four Plymouth school employees that allegedly failed to report suspected abuse of students.
Two of the teachers facing discipline retired, one remains on administrative leave and the fourth teacher will be able to return to their assignment at Plymouth Center School, school administrators said Wednesday.
The school district announced last August that the employees were arrested after failing to report suspected abuse by a former teacher. On Wednesday, Superintendent Brian Falcone said the criminal cases of these four employees were dismissed "through operation of the court process."
"We have treated all of the individuals involved in this situation fairly based on the facts as they are established at the conclusion of the investigation and we would not return a teacher to the classroom if we had any reservations that it would compromise the safety of our children," Falcone said in a letter to the school community.
The charges stemmed from a failure to report allegations of abuse of neglect of students by former Plymouth Center School teacher James Eschert.
Eschert, of Canton, was arrested in January and charged with five counts of risk of injury and two counts of sexual assault in the fourth degree. He pleaded not guilty and his case is pending.
Falcone said the employees were placed on administrative leave when the district notified the state Department of Children and Families of the alleged failure to report. The school district said they've fully cooperated with authorities during the year-and-a-half long investigation.
Plymouth Schools said they conducted their own investigation in addition to the DCF and Plymouth Police investigations.
The superintendent said Plymouth public school employees are mandated reporters and are required by law to report allegations of abuse or neglect of children to DCF for investigation.
"As a school district, the safety and well-being of our students will always be our top priority and we reaffirm our commitment moving forward to act in their best interest," Falcone said.