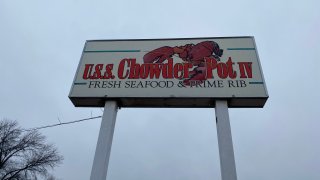 The Chowder Pot of Hartford says they'll be closing on March 25 after decades at its current location.
After almost six decades and millions of customers, the restaurant said its building is starting to show its age.
In a Facebook post, the restaurant said due to the age, size and constant amount of work needed to maintain the building combined with a new business wanting to make the property their home, they have decided to sell.
"It has been bittersweet since announcing our closing. The number of guests that have come in to eat and all of the positive comments in person and on social media have not gone unnoticed and are extremely appreciated by all of us here at the Chowder Pot," they said on Facebook.
According to the restaurant, where they go next has not been decided. They said they'll be open every day until their closing date.
Soups will continue to be sold in area supermarkets as the restaurant decides its next steps.
Officials said the restaurant's building opened in 1965 as Valle's Steak House then it was the Hilltop Steakhouse before being sold again and reopening as the USS Chowder Pot IV in 1994.
"We ask that you please be patient and understanding as we do the best we can under the circumstances to keep the restaurant staffed and supplied in the coming weeks," the restaurant said.